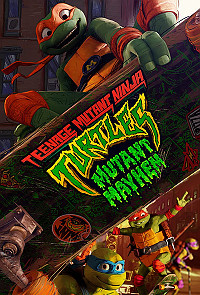 dir Jeff Rowe
scr Seth Rogen, Evan Goldberg, Jeff Rowe, Dan Hernandez, Benji Samit
prd Seth Rogen, Evan Goldberg, James Weaver
voices Nicolas Cantu, Micah Abbey, Shamon Brown Jr, Brady Noon, Jackie Chan, Ayo Edebiri, Ice Cube, Maya Rudolph, Paul Rudd, Rose Byrne, Seth Rogen, John Cena, Hannibal Buress, Natasia Demetriou, Post Malone, Giancarlo Esposito
release US/UK 4.Aug.23
23/US Paramount 1h39



---
Is it streaming?

---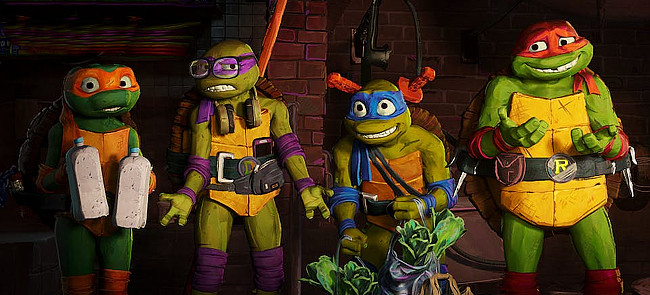 Animated with a blast of freshly hand-drawn style, this snappy adventure breathes new life into the franchise as it playfully spirals around an ensemble of quirky characters who are both witty and visually stunning. Echoing graffiti culture, the inventive imagery is rendered with eye-catching attention to detail and directed with boundless energy. And the humour and attitude continually catch the audience by surprise, drawing us in deeper.
---
For 15 years, mutant turtles Leo, Donnie, Mikey and Raf (Cantu, Abbey, Brown and Noon) have been raised in the New York sewers by their rat-dad Splinter (Chan), avoiding humans with ninja skills. But they long for a normal teenage life. Then they meet high school journalist April (Edebiri), who isn't terrified of them and enlists their help to track down the villainous Superfly (Cube). It turns out that Superfly is also a mutant, accompanied by a gang of mutant pals with a scary plan. The question is whether these "cousins" can actually work together.
---
With its innovative animation and propulsive narrative, this feels like something all-new, rather than yet another reboot of one of the 1980s' odder concoctions. Smart gags, hilarious references and knowing interaction fill the screen. The four central figures have a superbly juvenile sensibility, enthusiastic and clumsy, each with his own dreams and obsessions. Most engaging is Leo's instant crush on April, expertly expressed with amusing wit in dialog and animation.

Casting Chan to voice Splinter is a stroke of genius. Not only is he wonderful in the role, but he gleefully pokes fun at his own persona. Cube's Superfly is both scary and funny, with a continual stream of nutty pronouncements. His ensemble of wacky mutants get brief moments of their own amid the craziness. The ludicrously talented Rudolph is slightly sidelined as the villainous Cynthia, but is nicely set up for future mayhem. And the eye-popping way each of these figures is animated that makes them even more indelible.

As always, these teens use positivity to save the world, offering lessons in cooperation, setting realistic goals and improvisatory thinking. They also know the value of a celebratory pizza. It's unusual for such a wildly comical movie to have a strong emotional undercurrent, but the screenwriters come up with some surprisingly moving elements that never swamp the silliness. So while we're laughing at each punchline and genius visual flourish, we are surprised that we're also feeling so much camaraderie with these four optimistic heroes.
| | | |
| --- | --- | --- |
| | themes, violence | 30.Jul.23 |
R E A D E R R E V I E W S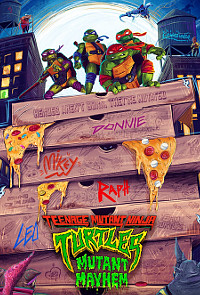 Still waiting for your comments ... don't be shy.