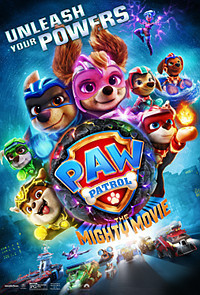 dir Cal Brunker
scr Bob Barlen, Cal Brunker
prd Laura Clunie, Jennifer Dodge, Toni Stevens
voices Mckenna Grace, Taraji P Henson, Ron Pardo, Finn Lee-Epp, Christian Convery, Marsai Martin, Callum Shoniker, Nylan Parthipan, Luxton Handspiker, Christian Corrao, Lil Rel Howery, Kim Kardashian, Kristen Bell, James Marsden, Chris Rock, Serena Williams
release US 29.Sep.23,
UK 13.Oct.23
23/Canada Paramount 1h32




---
Is it streaming?

---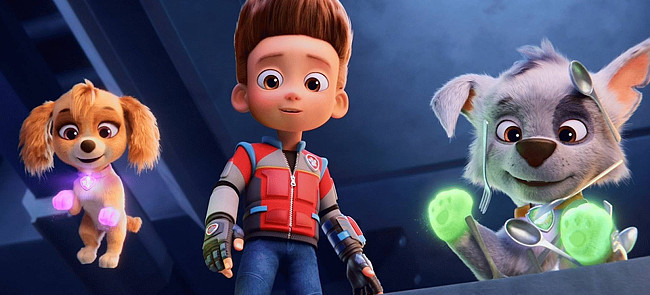 Lively and colourful, this action-packed romp gives these rescue dogs superpowers as they take on a villain whose thirst for power is jeopardising residents of Adventure City. Peppered with hilarious one-liners that help grown-ups stay awake, the movie is relentlessly adorable, with big surges in sappy emotion as well as a few intense action beats. Fortunately, nothing lasts too long, as the filmmakers play to short attention spans.
---
Scientist Victoria (Henson) is furious that people think of her as mad, even as she is magnetically pulling a meteor toward the city to harness its power. When the Paw Patrol kicks into action, saving the day, the crystals within the meteor give them special abilities. So they rebrand as Mighty Pups with all-new super-suits. For cockapoo Skye (Grace), super-strength means she can finally stop feeling like the runt of the litter. But Victoria teams up with the pups' nemesis Humdinger (Pardo) to escape from prison and steal the crystals, amping up her nefarious plan.
---
Visually, the movie is a mix of beautifully designed backgrounds and simplistically animated people and critters who are bland and relatively expression-free. Unsurprisingly, the most interesting looking character is the spiky villain Victoria. And the funniest are three puffball puppies (voiced by Alan Kim, North West and Brice Gonzalez) who are trainee patrollers. Meanwhile, the starry supporting voice cast gets to reel off several witty zingers, including Howery's remarkably on-the-nose meta-gag about merchandising.

These snappy verbal jokes add some sassy attitude that makes these characters watchable, because they are otherwise just a collection of huge eyes and out-of-proportion bodies. Clearly this is an effort to not stray too far from the original animated series, as each doggy has his or her dedicated fanbase, but the lack of creativity in character design and plotting leaves everything feeling very thin. Heroes are relentlessly heroic, villains are thoughtless and selfish, and teamwork saves the day.

Of course, the very young viewers this is aimed at won't mind any of this. They'll be on their feet cheering these canine good guys through a wide range of eye-catching action set-pieces, including a couple that take briefly harrowing turns. And everyone can identify with Skye's journey, feeling inadequate despite her innate skill and bravery, and learning that she's a more valued member of the team than she thinks she is. Which of course is a nice lesson for children to hear.
| | | |
| --- | --- | --- |
| | themes, violence | 24.Sep.23 |
R E A D E R R E V I E W S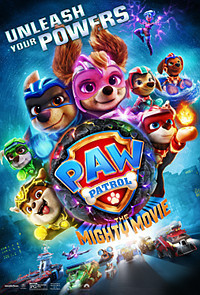 Still waiting for your comments ... don't be shy.