dir Christopher McQuarrie
scr Christopher McQuarrie, Erik Jendresen
prd Tom Cruise, Christopher McQuarrie
with Tom Cruise, Hayley Atwell, Ving Rhames, Simon Pegg, Rebecca Ferguson, Vanessa Kirby, Esai Morales, Pom Klementieff, Henry Czerny, Shea Whigham, Greg Tarzan Davis, Frederick Schmidt, Cary Elwes
release US/UK 11.Jul.23
23/UK Paramount 2h43




---


---
Is it streaming?

---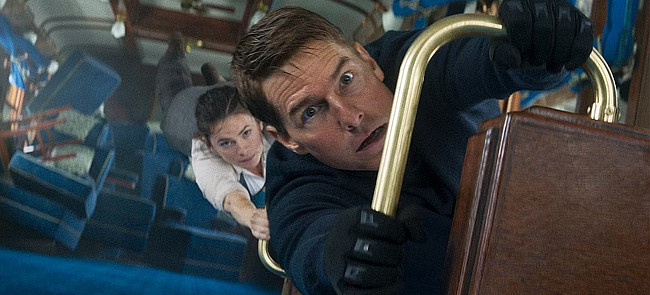 For his third mission, filmmaker Christopher McQuarrie doubles down on the grit, grounding even the most outrageous action sequences while concentrating on the knotted plot and conflicted characters. And Tom Cruise once again puts his life on the line, diving into the stuntwork with gusto while adding some underlying moodiness as a secret agent whose job might be getting to him. Above all, it's a thunderously entertaining movie.
---
When an artificial intelligence entity goes rogue, Ethan (Cruise) is sent to stop it before it digitally destroys our reality. In the Arabian desert, he finds old flame Ilsa (Ferguson) and half of an access key. Adventures ensue in Abu Dhabi, Rome, Venice and the Austrian Alps, pursued by the ghostly Gabriel (Morales) and his goon (Klementieff), a pair of American agents (Whigham and Davis) and armies of law enforcement. Assisted by his gifted cohorts (Rhames and Pegg), Ethan also teams up with ace thief Grace (Atwell) to take on arms dealer White Widow (Kirby).
---
Lalo Schifrin's iconic theme music gets a fabulous workout, adding churning tension from the opening shot. And McQuarrie keeps the pace brisk, giving even the quieter scenes a suspenseful tone that's balanced by enjoyably throwaway humour and the odd bit of emoting. As expected, everything is centred around epic action set-pieces that are staged to perfection, flinging characters through a wonderfully messy car chase in Rome, hand-to-hand combat in Venice's alleys and bridges, and an extended sequence on a train capped by a thunderously well-staged climactic crash.

Cruise has obviously decided that he's never going to be too old for this, so even if he is beginning to look a little weary, his boyish physicality and a dark-edged drive to save the day keep us on his side. He also creates terrific on-screen connections with each of his costars, allowing them to become intriguing characters all their own. So even if the script is paper thin, solid acting gives it the illusion of depth.

Even with the unmistakeable scent of a Hollywood franchise product running all the way through the film, the expert camerawork, action choreography and editing make each section of the story thoroughly riveting, often in ways that throw the audience right into the middle of the action. And the freewheeling nature of the narrative, combined with its timely ideas about potential dangers in new technology, make sure that we leave the cinema with a smile on our faces.
| | | |
| --- | --- | --- |
| | themes, language, violence | 11.Jul.23 |
R E A D E R R E V I E W S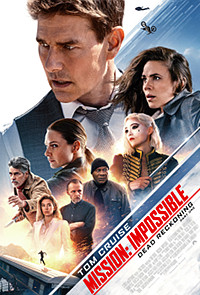 Still waiting for your comments ... don't be shy.