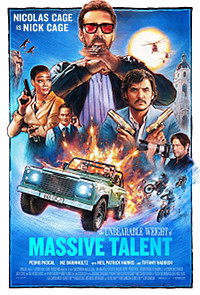 dir Tom Gormican
scr Kevin Etten, Tom Gormican
prd Nicolas Cage, Kristin Burr, Michael Nilon, Kevin Turen
with Nicolas Cage, Pedro Pascal, Sharon Horgan, Lily Sheen, Tiffany Haddish, Ike Barinholtz, Neil Patrick Harris, Alessandra Mastronardi, Paco Leon, Jacob Scipio, Katrin Vankova, Demi Moore
release US/UK 22.Apr.22
22/US Lionsgate 1h45



---
Is it streaming?

---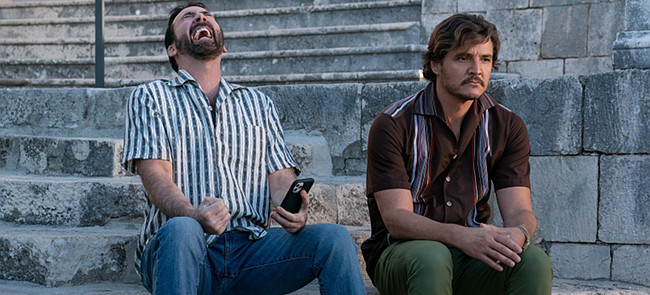 It's difficult to imagine another actor who could both lampoon and live up to his reputation at the same time. Even by his own standards, Nicolas Cage is riotously over-the-top playing himself in this deranged action comedy. Director-cowriter Tom Gormican packs the screen with uproarious gags aimed at Cage's fans, which should make this a cult classic. And it's entertaining enough to be a mainstream hit as well.
---
Struggling to find good roles and to connect with teen daughter Addy (Sheen), Nick gets an offer through his agent (Harris): earn $1 million by attending a birthday party at a palatial villa in Mallorca. Then FBI agents (Haddish and Barinholtz) tell Nick that billionaire host Javi (Pascal) is an arms dealer who has kidnapped a politician's daughter (Vankova). But Nick and Javi find an instant connection, and Nick doubts that his new friend could possibly be a villainous mastermind. Until Javi surprises Nick by flying in Addy and her mother, Nick's ex Olivia (Horgan).
---
Referencing cinema history from The Cabinet of Dr Caligari to Paddington 2, the movie also traces Cage's filmography through major hits (Face/Off, National Treasure) and minor ones (Guarding Tess, Captain Corelli's Mandolin), including witty nods to Mandy and The Croods 2. And then there's "Nicky", his Wild at Heart alter-ego who offers seriously unhelpful advice. Meanwhile, the film's knowingly ridiculous plot escalates from a loose comedy into an endearing bromance and finally into all-out explosive action mayhem.

Of course Cage commits himself deeply to the role, finding all kinds of comedic and dramatic beats along the way. He's simply hilarious as an over-serious "nouveau shamanic actor" with a profound love of the unexpected. And he finds terrific chemistry with Pascal, who is fabulous as the starstruck Javi discovers that his idol is even more awesome than he expected. Supporting actors have their own sharp edges as they lob terrific jokes from the sidelines, including the reliable Horgan and Haddish.

While the tone is too farcical to build any real suspense, Gormican instead exaggerates everything for laughs. This includes two action sequences that rely on drug-induced wackiness, an amusingly absurd undercover set-piece and a number of crazed shootouts and car chases, all infused with references to Cage's eclectic career. And because we're having so much fun, Gormican even gets away with the emotional stuff, as well as some pointed ribbing about the narcissism any actor needs to have to make it in Hollywood.
| | | |
| --- | --- | --- |
| | themes, language, violence | 6.Apr.22 |
R E A D E R R E V I E W S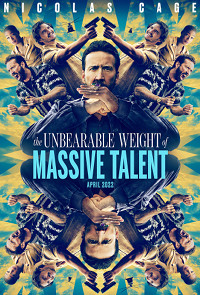 Still waiting for your comments ... don't be shy.