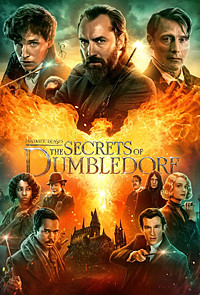 dir David Yates
scr JK Rowling, Steve Kloves
prd David Heyman, Steve Kloves, JK Rowling, Lionel Wigram, Tim Lewis
with Eddie Redmayne, Jude Law, Mads Mikkelsen, Ezra Miller, Dan Fogler, Callum Turner, Jessica Williams, Alison Sudol, Richard Coyle, William Nadylam, Victoria Yeates, Katherine Waterston
release UK 8.Apr.22,
US 15.Apr.22
22/UK Warners 2h22




---
See also:



---
Is it streaming?

---
With its third chapter, this franchise takes a magical swipe at a Mission: Impossible-style adventure, although relentless mythology-building prevents the film from springing to life. Still, the imagery is cool, the story intriguing, and the cast terrific at adding character nuances. But this series isn't easy to connect with, since it lacks an engaging central point of view and is more about details than the themes gurgling under the surface.
---
In the late 1920s, Newt (Redmayne) is interrupted assisting a magical creature give birth by a team of marauders led by Credence (Miller). Their nefarious purpose is linked to the comeback the now-acquitted Grindelwald (Mikkelsen) is orchestrating for himself. But Dumbledore (Law) is on the case to stop him, gathering a team that includes Newt's brother Theseus (Turner), intrepid muggle baker Jacob (Fogler), whizzy witch Eulalie (Williams) and a few others. So as Grindelwald's elaborate plan is set in motion, Dumbledore and his crew work to stay one step ahead, if they can. Nice to
---
uches pepper the narrative, such as how the past relationship between Grindelwald and Dumbledore prevents them from harming each other. Meanwhile, Jacob is pining for Queenie (Sudol), who is now on Grindelwald's side but seems unhappy about that. And then there's Dumbledore's brother Aberforth (Coyle), who has his own reason for getting involved. So as the eye-catching series of action set-pieces escalate to a mountain peak in Bhutan, there's plenty to hold the interest. But it's never as exciting or moving as it should be.

Redmayne, Law and Mikkelsen are particularly good at layering subtext into their dialog, hinting at larger issues under the surface. They also expertly undermine their characters' self-confidence with tiny touches that aren't in the script. It's a shame that the costumes and sets are so murky and uninteresting, as they never offer insight into smaller roles that feel unfinished despite solid performances from the likes of Miller, Turner, Williams and Coyle.

Even with the limited colour palate, digital trickery means that there's a lot going on in each shot. Most of this is spectacular, especially in the various elaborately orchestrated chase and fight sequences. Although interaction between humans and beasts remains more than a little iffy. And the strangest thing about this entire series is its lack of a character we can identify with. Everyone is quirky, with some being funny and others more menacing, but what they're dealing with doesn't really touch our lives.
| | | |
| --- | --- | --- |
| | themes, violence | 4.Apr.22 |
R E A D E R R E V I E W S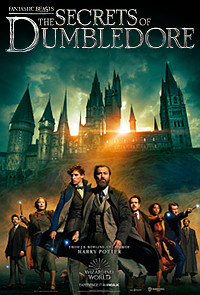 Still waiting for your comments ... don't be shy.