dir-scr Katie Holmes
prd Katie Holmes, Jordan Yale Levine, Jordan Beckerman, Shaun Sanghani
with Katie Holmes, Jim Sturgess, Derek Luke, Melissa Leo, Zosia Mamet, Becky Ann Baker, Neal Benari, Ed Dixon, Spenser Granese, Mike Iveson, Laura Austin, Sandra Lucas
release US 22.Jul.22
22/US 1h41




---
Is it streaming?

---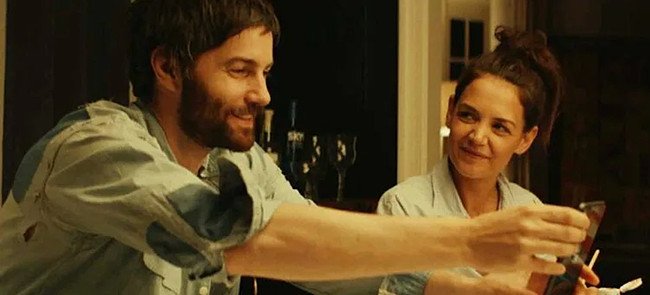 A gently comical tone adds warm charm to this romantic drama set in the early days of the pandemic, as two strangers in unsatisfying relationships find themselves stuck together. With its limited setting and cast, and a pointed screenplay that features increasingly deep discussions, this is sometimes more theatrical than cinematic. And even with a premise that feels predictable, actor-filmmaker Katie Holmes cleverly manages to keep things feeling fresh.
---
As covid locks New York down, food critic June (Holmes) decides to escape the city, but her boyfriend John (Luke) stays behind to look after his parents. Then the holiday home he booked turns out to be occupied by restoration expert Charlie (Sturgess), who's taking some time away from his girlfriend. He lets her have the spare room, and they begin to open up to each other. As conversations begin exploring their respective relationship issues, they can't help but fall for each other. And this brings a new set of complications to their situations.
---
While the house looks big enough for two people to avoid each other, the forced intimacy is played realistically, with a relaxed sense of a growing connection. The film's easy pacing sometimes makes it seem a bit languid, especially as we become impatient for it to get on with the expected narrative beats. But the casual storytelling nicely puts the focus on the characters and their various little quirks, which emerge as they speak to each other about their lives and have a few brief excursions.

Holmes and Sturgess are likeably understated, remaining earthy and realistic even if the roles are a bit thin. June maintains an offhanded wit even when recounting a horrific childhood experience, and Charlie's breezy, positive response has a nice resonance. Later, Luke beefs up his role as John arrives at the house, instigating a series of events that propel the film into its final act. Even if it's grounded, the writing makes it clear where this is headed. Side roles are mainly seen in FaceTime calls, but add plenty of spark as needed.

Observant dialog lifts this beyond the cliches of the genre, adding some thought-provoking interest to the romantic storyline and avoiding the usual overblown confrontations. Meanwhile, the lockdown gags are played in a welcome throwaway style that thankfully avoids sentimentality. That said, the pandemic is pretty much the only distinctive thing about this story, which plays out in a sweet but rather simple way. It's likeable and affirming, but nothing about it is terribly memorable.
| | | |
| --- | --- | --- |
| | themes, language | 19.Jul.22 |
R E A D E R R E V I E W S

Still waiting for your comments ... don't be shy.