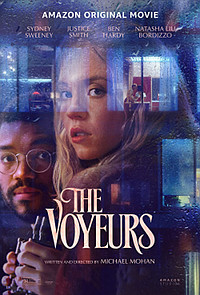 dir-scr Michael Mohan
prd Greg Gilreath, Adam Hendricks
with Sydney Sweeney, Justice Smith, Ben Hardy, Natasha Liu Bordizzo, Katharine King So, Cameo Adele, Jean Yoon, Cait Alexander, Blessing Adedijo, Bianca Blizzard, Sandrine Bergeron, Emily Shelton
release US/UK 10.Sep.21
21/Canada 2h01




---
Is it streaming?

---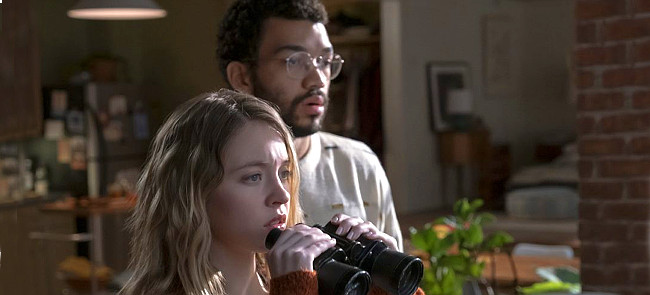 With heavy echoes of Hitchcock's masterpiece Rear Window, this thriller centres on a couple that can't help but get involved with neighbours whose lives they observe from their sitting room. Writer-director Michael Mohan creates a superbly tactile sensibility with skilful camerawork and editing, exploring the fragility of relationships while spinning a story that's entertainingly gripping. It's over-thought and too long, but features involving characters and enjoyably surprising situations.
---
Taking their relationship to the next level, ophthalmologist Pippa (Sweeney) moves with her musician boyfriend Thomas (Smith) into their dream loft apartment in Montreal. Then they realise that they can see straight into the flat opposite, and it's difficult not to watch their sexy photographer neighbour Seb (Hardy), his wife Julia (Bordizzo) and the secret liaisons he has with his models whenever she's not around. Then by coincidence, Pippa finds herself socialising with Julia, and she feels like she needs to tell her about Seb's infidelity. But Thomas feels that getting involved is a mistake.
---
The film is edited together with witty transitions and clever perspectives that play on the way this couple watches their neighbours more closely than they should, as if closing blinds or simply turning away from the window is impossible. Eyes play a big role in the story, from Pippa's job to cameras and binoculars. And each decision the characters make has consequences that will push them to the brink. So while it's not always plausible, the narrative pulls us in deeper and deeper. All we can do is hope it's not headed for a big silly finale.

Sweeney and Smith are superbly offhanded as a smart, lively couple who are madly in love but distracted by these hot strangers. Their different responses are intriguing, spinning their relationship in startlingly dark directions. This is reflected in equally layered turns from Hardy and Bordizzo as their enigmatic neighbours. While the story is carefully concocted, there are several moments that are genuinely unnerving. And even if it seems to end a half hour before it actually does, where it goes next is unexpected.

Mohan's script playfully references several other classic movies while creating its own sparky tone and bringing its own nasty twists. Big themes emerge along the way, but the filmmaker opts for the snappy thriller route instead, never quite grappling with city dwellers living in isolation so close to each other, or the thoughts that might provoke. Still, there's intrigue peppered throughout the script as each of these people begin playing their own dangerous games.
| | | |
| --- | --- | --- |
| | themes, language, violence, sexuality | 2.Sep.21 |
R E A D E R R E V I E W S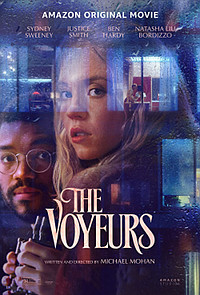 Still waiting for your comments ... don't be shy.