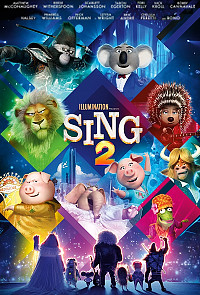 dir-scr Garth Jennings
prd Janet Healy, Christopher Meledandri
voices Matthew McConaughey, Reese Witherspoon, Scarlett Johansson, Taron Egerton, Tori Kelly, Bobby Cannavale, Bono, Halsey, Eric Andre, Nick Kroll, Garth Jennings, Pharrell Williams, Letitia Wright, Chelsea Peretti, Jennifer Saunders
release US 22.Dec.21,
UK 29.Jan.22
21/US Universal 1h52




---
See also:


---
Is it streaming?

---
Goofy antics continue in this colourfully endearing sequel to the 2016 hit. The ensemble voice cast is back, plus some hilarious newcomers with additional textures to stir into the eclectic mix, including several more iconic songs. It's not terribly complex, but there are some solid themes, both the obvious one about tenacity and some more subtle observations as well. And the script is packed with riotously snappy gags.
---
With his theatre a success, koala Buster (McConaughey) wants to prove himself to a bigger audience, so he takes the gang to audition for big-city wolf mogul Jimmy (Cannavale). Their deal hinges on Buster's ability to lure reclusive musical lion Clay (Bono) back to the stage. As the company sets out to create the most outlandish outer space extravaganza imaginable, Jimmy's insistent daughter Porsha (Halsey) wrangles a part in the show. And it's up to Buster and porcupine Ash (Johansson) to convince Clay to overcome his crippling emotions and leave his reclusive life behind.
---
Among a cacophony of suplots, star pig Rosita (Witherspoon) is having a crisis of confidence, talented gorilla Johnny (Egerton) worries that he can't compete with the professionals, and elephant Meena (Kelly) struggles to play romantic scenes opposite mulleted bull Darius (Andre). So there are stories for everyone, even if it all feels perhaps a bit grown-up and intense for the younger kids in the audience. Even so, they'll love the goofiness, eye-catching extravaganza and a wide range of musical hits, from Burt Bacharach to Prince, Coldplay and Shawn Mendes, plus of course U2.

This is a clear step up in animation quality from the first film, although the returning characters still look rather a lot like plastic toys. Newcomers are more visually luxuriant, most notably the woolly, windswept Clay. All of the personalities remain vivacious and often laugh-out-loud hilarious, as Jennings' script stirs a range of humour into each exchange of dialog, with broadly dopey gags, very sly wit and several jokes just for the grown-ups. Indeed, many references are of the blink-and-miss-them variety.

Each of the plot threads encourages viewers to go after their dreams, and more importantly to recognise their worth despite what the haters say. This theme emerges in a variety of scenarios that resonate in expected ways, both in personal relationships and professional ambitions. Perhaps even more important are the quieter ideas gurgling underneath, reminding us not to expect too much too soon. And that emotional healing will both take time and require a nudge from friends.
| | | |
| --- | --- | --- |
| | themes, violence | 21.Nov.21 |
R E A D E R R E V I E W S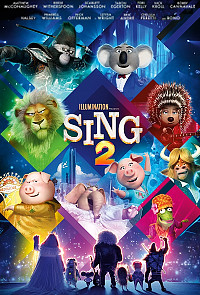 Still waiting for your comments ... don't be shy.