dir Lana Wachowski
scr David Mitchell, Lana Wachowski, Aleksandar Hemon
prd Grant Hill, James McTeigue, Lana Wachowski
with Keanu Reeves, Carrie-Anne Moss, Yahya Abdul-Mateen II, Jessica Henwick, Jonathan Groff, Neil Patrick Harris, Jada Pinkett Smith, Priyanka Chopra Jonas, Brian J Smith, Toby Onwumere, Christina Ricci, Lambert Wilson
release US/UK 22.Dec.21
21/US Warners 2h28




---
See also:


---
Is it streaming?

---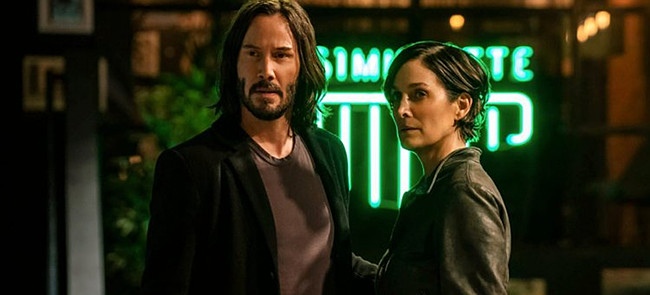 Whizzy visuals and wildly imaginative plotting continue in this two-decades-later meta-sequel. Now-solo filmmaker Lana Wachowski has a lot of fun pulling the characters and the audience back into an alternate reality that's packed with questions about identity, choice and destiny. While the constantly swapping realities and endless plot exposition are rather exhausting, the film has a wonderfully loose, unhinged vibe to it that thrillingly undercuts the arch philosophising.
---
After Bigs (Henwick) discovers something amiss inside the digital realm of the Matrix, she teams up with Morpheus (Abdul-Mateen) to track down the mythical hero Neo (Reeves). But Neo is living in the real world as Thomas, a game designer working for aggressive businessman Smith (Groff), who wants him to create a sequel to his Matrix trilogy. Suddenly, he's being pulled into another reality that feels eerily familiar. But which world is real? And when he meets Bug's crew, Neo sets out to rescue Trinity (Moss), taking on anyone who doesn't want them to reunite.
---
Witty dialog plays with both the enduring qualities of The Matrix and the nature of franchises themselves. Thomas asks his analyst (Harris) big questions, but finding answers leads to the usual enjoyable mumbo jumbo about existence and the thin line between perceptions of fact and fiction. Clips from the previous films add connectivity as things spiral in outrageous directions. And there are plenty of awesome explosions, gunfights and gravity-defying choreography. All with a fabulous tinge of campiness.

This more relaxed approach adds light to the gloomy plot and characters. Reeves brings an edge of gravitas as a middle-aged man who still has some fight in him. The mix of new and returning characters feels fresh and intriguing, and the extended running time lets each actor reveal deeper layers. Standouts include Groff and Harris relishing their enjoyably bonkers roles. And returning cast members get to chomp merrily on the scenery once again.

As with the previous films, it's difficult to get a sense of the stakes when fights are taking place in virtual realities where people can dodge bullets. And the mythology is so dense that it's almost impenetrable. Essentially, this leaves the film as a series of eye-catching but seemingly pointless set-pieces. But deeper themes create provocative kicks along the way, such as a comment about how lies often seem more real to us than the truth is. Which adds a wicked spin to the idea of giving people what they want.
| | | |
| --- | --- | --- |
| | themes, language, violence | 22.Dec.21 |
R E A D E R R E V I E W S

Still waiting for your comments ... don't be shy.