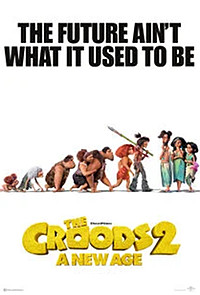 dir Joel Crawford
prd Mark Swift
scr Kevin Hageman, Dan Hageman, Paul Fisher, Bob Logan
voices Nicolas Cage, Emma Stone, Ryan Reynolds, Catherine Keener, Cloris Leachman, Clark Duke, Leslie Mann, Peter Dinklage, Kelly Marie Tran, Kailey Crawford, Chris Sanders, James Ryan
release US 25.Nov.20,
UK 26.Mar.21
20/US DreamWorks 1h35




---
See also:


---
Is it streaming?

---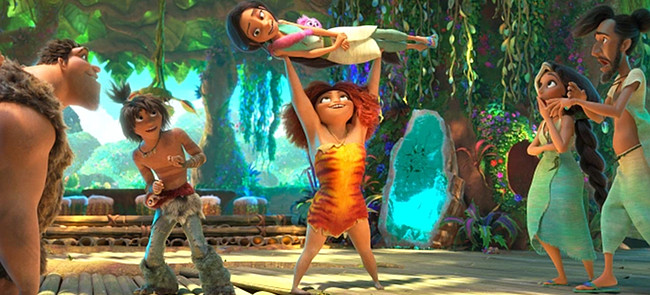 Resuming the quick-pace of gags from the first movie, this even more manic sequel uses the same general theme while pushing these cavemen in new directions. With colourfully detailed animation and lively voice work, this is a witty exploration of family values and conflicting societal views woven into a kinetic, noisy adventure comedy. There's nothing particularly surprising in the plot, but the characters are funny enough to keep us entertained.
---
As the intrepid Croods seek a place to call home, teen Eep (Stone) and interloper Guy (Reynolds) only have eyes for each other. While Eep's mother Ugga (Keener) understands that she'll need to form her own pack, her protective dad Grug (Cage) isn't happy about this. Then in a lush forest, they meet the far advanced Hope and Phil Betterman (Mann and Dinklage) and their daughter Dawn (Tran), who remember Guy from years earlier and are thrilled that he's back. But the uncivilised Croods are unwelcome treehouse guests. And there's a bigger threat outside.
---
Each character has a plot strand. At the centre, Eep is happy to find her first girlfriend but feels pangs of jealousy because Dawn and Guy were best pals as kids. And Hope and Phil are determined to keep Guy for Dawn. Elsewhere, Dawn envies Eep's adventures in the wild, Phil and Grug engage in some sweaty bromance, and Hope finds her inner warrior. None of this is terribly well-developed, playing up amusing but corny plot cliches. But the story never pauses long enough for us to worry about that.

The animators give each character a terrific physicality, allowing their enormous attitudes to burst through each scene. This makes the movie feel rather loud and frenetic, twisting everything into a farcical collision of intentions that lead to a range of obvious revelations. Both impressive designs and fabulously expressive vocal work from the entire ensemble more than make up for the silly, sentimental, overly referential script.

In the end, this sequel restates the message of the first movie, as both the Croods and their new friends learn to make decisions based on possibilities rather than fear. This time things are complicated by the conniving Bettermans, an empire of villainous punch-monkeys, flashback sequences and an epic rescue adventure. Throw in some vague subtext about the environment, girl power, immigrants and of course the perils of young love. All of this goes up in smoke in the frenzied, overblown finale, but it never really mattered anyway.
| | | |
| --- | --- | --- |
| | themes, violence | 15.Feb.21 |
R E A D E R R E V I E W S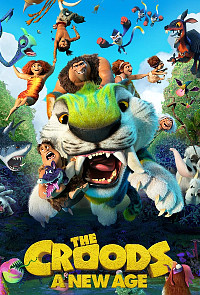 Still waiting for your comments ... don't be shy.