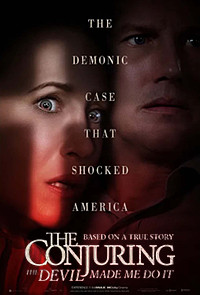 dir Michael Chaves
scr David Leslie Johnson-McGoldrick
prd Peter Safran, James Wan
with Vera Farmiga, Patrick Wilson, Ruairi O'Connor, Sarah Catherine Hook, Julian Hilliard, John Noble, Eugenie Bondurant, Shannon Kook, Ronnie Gene Blevins, Keith Arthur Bolden, Steve Coulter, Sterling Jerins
release UK 26.May.21,
US 4.Jun.21
21/US New Line 1h52




---
See also:


---
Is it streaming?

---
Depicting another case involving real-life paranormal investigators Lorraine and Ed Warren, this jittering horror movie recounts the first time demonic possession was used as a defence against a murder charge. To heighten an already intriguing story, director Michael Chaves deploys murky imagery and whispery dialog, forcing the audience to lean into the screen before walloping us with loud noises and freaky visuals. It's a cheap trick, but it works.
---
In 1981, Lorraine and Ed (Farmiga and Wilson) are documenting the exorcism of 8-year-old David (Hilliard) when the demon gives Ed a heart attack. Afterwards, Arne (O'Connor), boyfriend of David's big sister Debbie (Hook), starts having unnerving visions that lead to the stabbing death of his friend Bruno (Blevins). To prove in court that a demon made him do it, the Warrens consult with an ex-priest Kastner (Noble), who tells them that taking on this curse could cost them everything. Then as they discover where all of this started, they encounter a fearsome adversary (Bondurant).
---
The script merges factual details with lots of horror movie atmospherics, including an opening sequence that out-exorcises the The Exorcist. From here, even the relaxed and earthy scenes are underlit to maintain that sinister sensibility. So while there are nicely offhanded moments, the viewer is constantly braced for the next nasty onslaught. This means that the fascinating casework is continually interrupted by bonkers action sequences, nightmarish flashbacks, demonic apparitions and random supernatural sideroads.

Lorraine and Ed's relationship is robustly depicted, allowing Farmiga and Wilson to layer deeper feelings into their performances. The way they gleefully taunt sceptics makes them even more engaging, as do tense encounters when they rescue each other from perilous visions. Meanwhile, O'Connor's nicely textured turn balances Arne's haunted eyes with intelligent charm, augmented as Hook layers in earnest affection. Hilliard is terrific as an understandably frazzled kid, and Noble provides emotional gravitas as a man more connected to this case than he initially lets on.

Character complexity makes this film unusually involving, and even the most wildly ridiculous plot points are played with a straight face that almost makes us believers. There are also several points in the narrative that find vivid resonance in connections between family members. So the film might have even been moving if Chaves had grounded the story with realistic lighting and fewer simplistic jump scares. But of course audiences like to be distracted from real life by properly scary set-pieces.
| | | |
| --- | --- | --- |
| | themes, language, violence | 5.Jun.21 |
R E A D E R R E V I E W S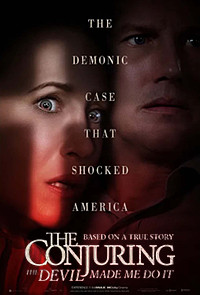 Still waiting for your comments ... don't be shy.