dir Kris Pearn
scr Kris Pearn, Mark Stanleigh
prd Brenda Gilbert, Luke Carroll
voices Will Forte, Maya Rudolph, Alessia Cara, Terry Crews, Martin Short, Jane Krakowski, Sean Cullen, Ricky Gervais, Brian Drummond, Kris Pearn, Nancy Robertson, Colleen Wheeler
release US/UK 22.Apr.20
20/Canada Netflix 1h30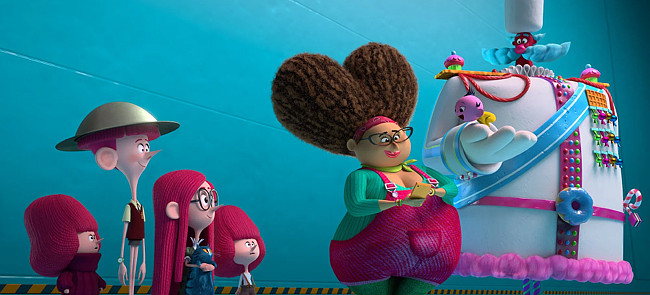 Based on the Lois Lowry novel, this wacky animated movie has rather a lot of Addams Family ookiness in its eccentric collection of characters. It also has its own distinctly freewheeling, rainbow-hued approach. The script is riotously snarky, with witty verbal asides to go with the kinetic visual gags. Filmmaker Kris Pearn offers an outrageous adventure that takes a series of wildly imaginative twists and turns.
---
Hidden from the modern world, Mr and Mrs Willoughby (Short and Krakowski) are so obsessed with each other that their children have to raise themselves. So teen Tim (Forte) rallies his optimistic, tuneful sister Jane (Cara) and creepy younger twins Barnaby and Barnaby (Cullen) to restore the family to its former greatness. But when the kids find an abandoned baby, their parents kick them out. So they decide to orphan themselves too, sending Mom and Dad on a perilous globe-hopping vacation. While they're away, they hire a cheerful-but-unqualified nanny (Rudolph) to watch the kids.
---
The story is narrated by a stray cat voiced by Gervais, who improvises irreverent gags to go with the generally anarchic tone. The story is densely packed with wacky plot points, each matched with elaborately colourful animation. It's all rather frenetic, barely allowing time for a joke to land before the next three come along. Meanwhile, the plot zooms along with a series of engagingly crazed adventures that involving and hilariously silly. Then when orphan services steps in, things turn remarkably emotional as the events take some darkly momentous turns.

The voice cast invests the same inflated energy levels as the animators do, deploying amusing asides at every opportunity. It helps that the characters have such enormous personalities, as each one is an irrepressible scene-stealer. The kids are unforgettable at the centre. While the riotous pairing of Short and Krakowski is genius, Rudolph gets a particularly energetic role, and Crews is likeably deranged as the jolly owner of an awesome candy factory who becomes a member of this nutty makeshift family.

There may be a slight problem with the idea that despicable parents are better than none at all, but the film has its heart in the right place, focussing on the resonant idea that our true family consists of people who love us just as we are. Thankfully, the script doesn't push this too forcefully, and even the expected sentimental climax is smartly undercut by the busily chaotic tone, leading to a genuinely touching climax that has no time for mush.
| | | |
| --- | --- | --- |
| | themes, violence | 22.Apr.20 |
R E A D E R R E V I E W S

Still waiting for your comments ... don't be shy.