dir Mark Tonderai
scr Kurt Wimmer
prd Gordon Gray, Kurt Wimmer, Morris Chestnut, Brian Wilkins
with Omari Hardwick, Loretta Devine, Lorraine Burroughs, Hannah Gonera, Kalifa Burton, John Beasley, Tumisho Masha, Steve Mululu, Peter Butler, Andre Jacobs, Chris April, Ri-Karlo Handy
release US/UK 30.Oct.20
20/US Paramount 1h31



---
Is it streaming?

---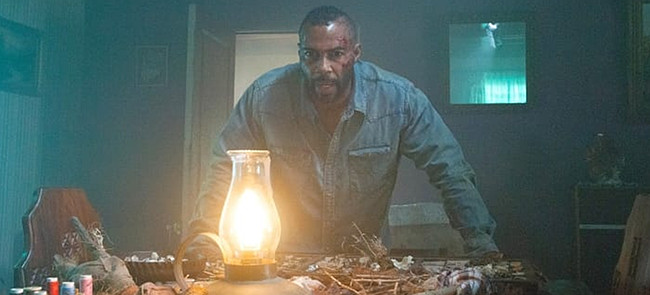 Playing on fears of creepy backwoods communities, this foreboding thriller nicely establishes its city-slicker characters before plunging them into a rural nightmare. The intense tone is urgent, turning deeply disturbing as the story swirls around creepy religious beliefs and black magic, plus a strong dose of seriously ghastly violence. In the end, there might not be much to it, but cultural touches add texture to the guilty-pleasure nastiness.
---
Business shark Marquis (Hardwick) is called from the city to rural Appalachia after his father dies, flying home in his small plane with his wife Veora (Burroughs) and teen kids (Gonera and Burton). After landing late and rough during a storm, Marquis wakes up trapped in the attic room of hoodoo practitioner Eloise (Devine), her husband Earl (Beasley) and their burly son Lewis (Mululu). Injured, Marquis' only concern is finding his family, so he plays along while plotting his escape. Then he learns that he only has until the blood moon to save them.
---
Shot in South Africa with an international cast, the film's expansive settings and jumble of accents add to the freak-out atmosphere. Eloise's folkloric mix of African spiritism, Native American animism and European Christianity is based on the secret religion that was created by slaves to subvert their masters. This is ramped up by the fact that much of the movie takes place in shadows or pouring rain, accompanied by Ben Onono's growly musical score. There's also the boogity, a voodoo doll Eloise makes of Marquis to supposedly help heal him. But we know better.

Hardwick is terrific as a wealthy man who has rejected his poor past, now trapped in an unthinkable house of horrors that's eerily familiar from childhood. It's easy to identify with his tenacity as he tries to get out of here. Opposite him, Devine is a master at switching between syrupy-sweet and menacing. With her down-home charm and and histrionic sense of purpose, she makes a seriously formidable villain. So the way these two face off is intensely involving, even if the narrative ultimately takes a rather simplistic route.

Tonderai gleefully plays up the story's grisliest elements, including a couple of jaw-dropping moments involving a massive nail. The shadowy historical themes running under the story lend some solid subtext to what's essentially a rather straightforward scary movie infused with some wacky supernatural elements. But it's rather good fun that screenwriter Wimmer's happily pushes the story in bonkers directions, leading to a downright apocalyptic finale.
| | | |
| --- | --- | --- |
| | themes, language, violence | 27.Oct.20 |
R E A D E R R E V I E W S

Still waiting for your comments ... don't be shy.