dir Sam Hargrave
scr Joe Russo
prd Anthony Russo, Joe Russo, Mike Larocca, Chris Hemsworth
with Chris Hemsworth, Rudhraksh Jaiswal, Randeep Hooda, Golshifteh Farahani, David Harbour, Priyanshu Painyuli, Shataf Figar, Pankaj Tripathi, Adam Bessa, Shivam Vichare, Piyush Khati, Sam Hargrave
release US/UK 24.Apr.20
20/US Netflix 1h57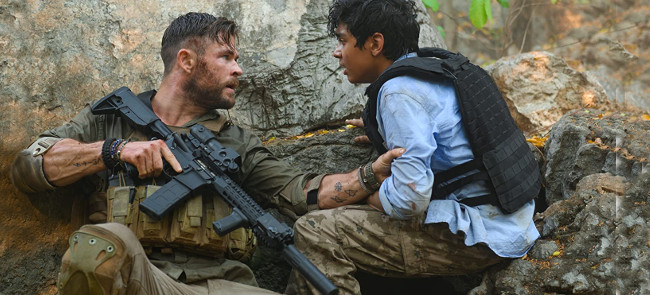 Blunt and violent, this thriller feels like it wants launch a franchise about a renegade action man who gets things done. Stunt coordinator Sam Hargrave makes his feature directing debut with a impressive flurry of outrageous shootouts, fistfights and explosions. Despite contrived emotional plot nuggets, there's little nuance, so it's not easy for the audience to get involved. It's also ceaselessly brutal, almost revelling in the bloodshed.
---
On a night out with friends in Dhaka, 14-year-old Ovi (Jaiswal) is grabbed by rogue cops. With his gangster father (Tripathi) in prison, Ovi's minder Saju (Hooda) sets out to retrieve him from rival drug kingpin Amir (Painyuli), hiring notorious Aussie mercenary Tyler Rake (Hemsworth). Working with Nik (Farahani), Tyler quickly finds Ovi, but now everyone seems to be trying to kill them. As they work their way across the city to the extraction point, Tyler struggles to find someone to trust, so he seeks out an old cohort (Harbour) who's living off the grid.
---
There's very little doubt where this will go, as the plot progresses along traditional action-movie lines. Russo's script is fairly relentless, barely pausing for breath between the well-staged set-pieces, each of which is massively staged with elaborately long takes and a seemingly endless supply of visceral energy, snarling machismo, bullets and blood. At the midpoint, there's an extended moody interlude where the characters (and audience) recharge before the tense final act.

Hemsworth establishes his character in a brief witty prolog before attacking the mayhem. Mainly physical, the performance does have some soulful moments, as Tyler does whatever it takes to complete his mission. Jaiswal also gets an introduction and some attitude, and he too is quickly engulfed by the violence. The best thing about the film is watching Ovi try to keep up with Tyler, continually shocked by the brutality. And the duo has a few solid scenes in which they can reveal some feelings. While Harbour adds some enjoyably sardonic wit.

Frankly, no one has a chance against Tyler, a man with nothing to live for and absolutely no fear. He also seems physically indestructible, rebounding even after being shot, punched, kicked and run over by a car. Female characters are badly sidelined (Farahani is limited to phone-based acting until the finale), while young children are deployed merely to add sentimentality. Despite Hargrave's slick filmmaking, this is a little more than a movie about self-styled macho men killing each other for no clear reason beyond wounded pride.
| | | |
| --- | --- | --- |
| | themes, language, violence | 16.Apr.20 |
R E A D E R R E V I E W S

Still waiting for your comments ... don't be shy.