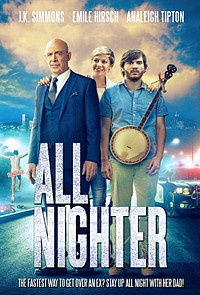 dir Gavin Wiesen
scr Seth Owen
prd Adi Ezroni, Mandy Tagger Brockey, P Jennifer Dana, Josh Crook
with Emile Hirsch, JK Simmons, Analeigh Tipton, Taran Killam, Kristen Schaal, Jon Daly, Xosha Roquemore, Shannon Woodward, Jon Bass, Hunter Parrish, Milana Vayntrub, Meta Golding
release US 17.Mar.17,
UK 24.Aug.20
17/US 1h26




---
Now streaming...

---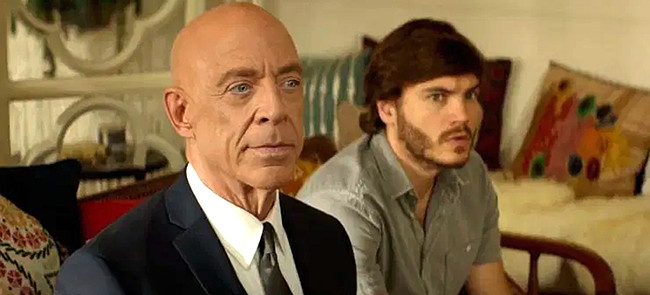 There's a dry, angry undertone to this comedy, which plays on the extreme differences between its central characters as they encounter a range of nutty people while on a quest that doesn't go to plan. It's slickly directed by Gavin Wiesen, and Seth Owen's script has a relaxed, freewheeling trajectory. Although the filmmakers seem to think it's a lot wackier than the wry drama it actually is.
---
In Los Angeles, banjo player Martin (Hirsch) is terrified when his girlfriend Ginnie (Tipton) takes him to meet her high-powered father Frank (Simmons). It doesn't go well. Six months later they've split up, so Martin is surprised to find Frank at his door looking for Ginnie. And he coerces Martin to help track her down. As their search goes into the night, Ginnie seems to have burned all her bridges and run off with her new boyfriend (Parrish). And Martin begins to think that he's not going to make it to his band's gig tomorrow.
---
The plot is a series of farcical encounters with people who are staggeringly inept, including a bickering couple (Schaal and Killam), a stoner flatmate (Daly), drunk clubber (Roquemore), idiot DJ (Bass) and a bright young woman (Woodward) who clearly likes Martin. Of course, there are scattered moments in which Martin and Frank find hints of common ground, giving Martin that badly needed kick to embrace his talent and get his life in gear.

Simmons has fun as the mysterious Frank, amusingly playing him as a hard-nosed movie heavy with laser focus. So it's funny when he randomly connects with Martin, played by Hirsch as a likeably loose, unassuming nice-guy. Their chemistry is enjoyable because they never let the characterisations wobble, even as both reveal more of themselves along the way. Oddly, none of the supporting cast try to steal scenes. Killam hams things up shamelessly but never generates an actual laugh.

Along the way Frank offers a morsel of advice that's as close as the movie gets to a meaningful theme: "Life goes by really fast. If you half-arse it now, you're going to feel it later." Otherwise, the narrative is merely a series of hit or miss set-pieces, culminating in the usual rush of sentimentality. Thankfully, the movie's brittle edge keeps that from being annoying. But while the filmmakers constantly pretend to be bold and sassy, they never manage to convince the audience that they have anything other than warm, happy thoughts about these characters.
| | | |
| --- | --- | --- |
| | themes, language, violence | 17.Aug.20 |
R E A D E R R E V I E W S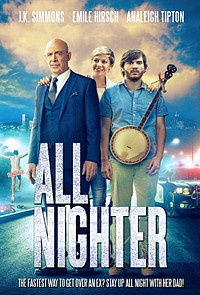 Still waiting for your comments ... don't be shy.