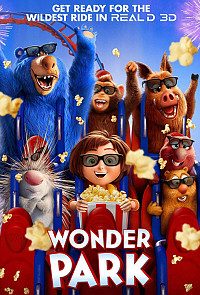 dir David Feiss
scr Josh Appelbaum, Andre Nemec
prd Josh Appelbaum, Andre Nemec, Kendra Haaland
voices Brianna Denski, Jennifer Garner, Matthew Broderick, Mila Kunis, John Oliver, Ken Hudson Campbell (UK cast: Tom Baker), Kenan Thompson (Joe Sugg), Ken Jeong (Caspar Lee), Norbert Leo Butz, Oev Michael Urbas, Kate McGregor-Stewart, Kevin Chamberlin
release US 15.Mar.19,
UK 8.Apr.19
19/US Paramount 1h25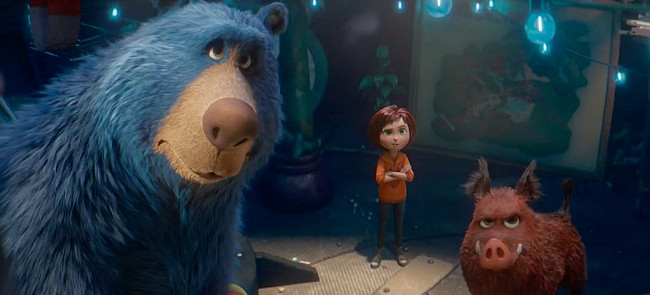 The idea to make an animated action comedy about a fantasy theme park is a great one, but this movie is merely frantic, with choppy editing and a script that throws in every theme imaginable without dealing with any of them. This leaves the comedy feeling corny, the action pointless and the emotions cheap. It's colourfully animated with moments of amusing wit, but it never grabs hold of the audience.
---
Preteen June (Denski) and her mother (Garner) spend their time imaginatively creating Wonderland, a fanciful amusement park staffed by June's stuffed animal collection: blue bear Boomer (Campbell), chimp Peanut (Butt), warthog Greta (Kunis), porcupine Steve (Oliver) and chucklehead otters (Thompson and Jeong). Then Mom gets seriously ill and June also starts worrying about her dad (Broderick), giving up on the park. Then one day in the woods, she stumbles into the real Wonderland, which is being destroyed by darkness. With the help of her critters, she sets out to save it.
---
First, why is the title Wonder Park when it's only Wonderland in the movie? Even more annoyingly, the screenwriters seem uninterested in the idea of a brainy child with a frustrated imagination, a girl who might be about to lose her mother, or even a group of animals becoming a team. Instead, the narrative framework is merely used to ping between random rides and lands. And since they're in a state of collapse, the fun is abandoned for outrageously violent set-pieces in which no one gets hurt.

The voice work is cursory because the script never cracks the surface, filling dialog with inane gags and trite moralising. The animation is at least colourful, although character design isn't distinct enough to be particularly memorable. And the chaotic way it's directed leaves elaborate designs under-explored. There are snappy jokes to elicit a chuckle, but not nearly enough of them. So the movie merely feels commercial, an attempt to bamboozle kids into thinking they're entertained when they're really just distracted.

The themes are so thinly handled that some parents might also be fooled. But it's that vacuous feeling at the end that tells the truth: the film means and says absolutely nothing, leaving the audience unmoved and unbothered. It's busy and silly enough to pass the time, but ultimately feels like an underdeveloped cash-grab. Which is a big shame because clearly a lot of talented people put their skills on-screen.
| | | |
| --- | --- | --- |
| | themes, violence | 24.Mar.19 |
R E A D E R R E V I E W S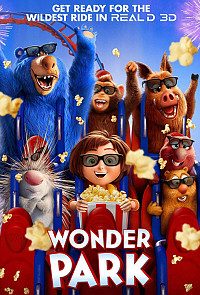 Still waiting for your comments ... don't be shy.