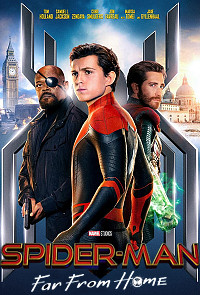 dir Jon Watts
prd Kevin Feige, Amy Pascal
scr Chris McKenna, Erik Sommers
with Tom Holland, Jake Gyllenhaal, Zendaya, Samuel L Jackson, Jon Favreau, Cobie Smulders, Marisa Tomei, Jacob Batalon, Angourie Rice, Martin Starr, JB Smoove, Remy Hii, Tony Revolori
release US/UK 5.Jul.19
19/US Columbia 2h09




---
See also: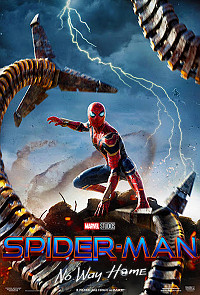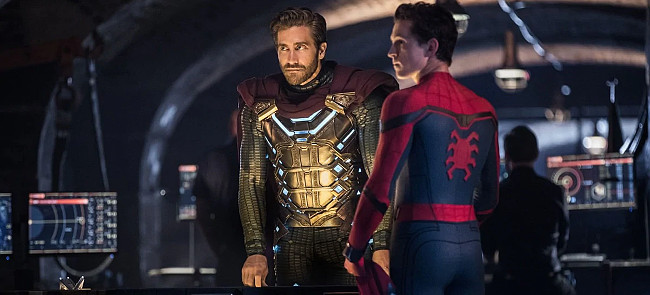 The best thing about this blockbuster is its eagerness to puncture Marvel's tendency to become over-serious about everything. Not only does the film openly laugh at any attempt to be momentous, but it features superior superhero action, exhilarating broad-daylight adventures in real-world locations, while director Jon Watts continues to flip the idea of heroes and villains on their heads. And it's also a riotously funny summer romp.
---
After the Endgame "blip", Peter (Holland) is anxious to just be a teen again, not a superhero. With his best pal Ned (Batalon) he hatches a plan to tell MJ (Zendaya) how he feels about her while they're on a summer school trip through Europe. But at their first stop in Venice, a destructive giant water creature appears, with cross-dimensional hero Quentin (Gyllenhaal) fighting him off. Cornered by Nick Fury (Jackson), Peter is pulled back into service, travelling to Prague to fight alongside Quentin against another elemental beast, this one made of fire.
---
Even with heavy Tony Stark overtones, the film feels fresh, anchored in the kinetic Tom Holland, who leads the audience through various twists and turns while maintaining an emotional connection. A happens to him in this story, and it's easy to feel overwhelmed right along with him. Then he bravely dives into the fray once again, exceeding his expectations every time. It's clever approach to the whole idea of a hero, and Holland never forgets that he's a hormonal teen.

The grown-ups are also aware of this, and each offers telling reactions. Jackson is wonderful as the quick-tempered Nick, not used to being ignored. Favreau is also terrific as a kind of father figure, Tony's sidekick now helping Peter when he needs it, while flirting with Peter's overprotective Aunt May (Tomei). And Gyllenhaal plays up Quentin's amusing sarcasm, quickly finding common ground with Peter. Meanwhile, Zendaya, Batalon and other school friends bring out their own tangled web of comedy and drama.

As with Homecoming, this film has a comical lightness that makes it far more blatantly entertaining than most Avengers movies, even as Watts ups the ante with action that's grounded and gritty, properly anchored in narrative and character. The effects are particularly well-rendered, especially some reality-scrambling set-pieces that happily mess with the viewer's perspective while remaining skilfully coherent. But best of all is the way the film works as a teen coming-of-age story, because it never forgets that Peter still needs to grow up.
| | | |
| --- | --- | --- |
| | themes, language, violence | 27.Jun.19 |
R E A D E R R E V I E W S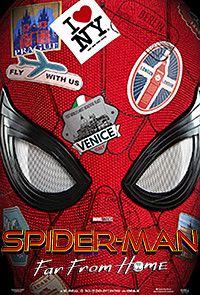 Still waiting for your comments ... don't be shy.