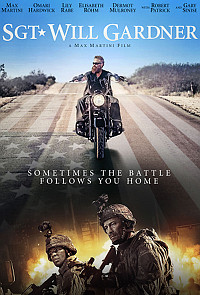 dir-scr Max Martini
prd Michael Hagerty, Max Martini
with Max Martini, Omari Hardwick, Lily Rabe, Elisabeth Rohm, Dermot Mulroney, Luis Bordonada, Leo Martini, Robert Patrick, Gary Sinise, JoBeth Williams, Holt McCallany, Stuart Margolin
release US 11.Jan.19
19/US 2h05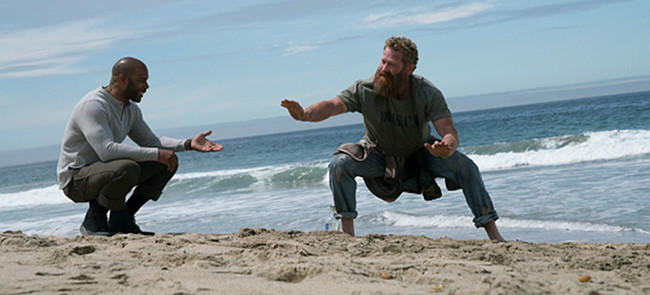 There's a gritty, earthy sensibility to this dark drama about a man struggling with the lingering effects of his war zone trauma. Actor-filmmaker Max Martini plays this out in a way that sometimes feels over-serious, threatening to tip into both melodrama and rah-rah Americana at each turn in the road. But its honesty and introspection, and the urgency of the topic, make it worth a look.
---
After suffering a brain injury during military service, scruffy-burly Iraq veteran Will (Martini) is frustrated that no one gives him a break. After his boss (Patrick) refuses to pay him what he's owed, his friend Samuel (Hardwick) calms him down, sparking Will to take a motorcycle and drive cross-country to try and put his life back together. Along the road, Mary-Anne (Rabe), who also has dumped her life, chases Will down thinking he's Bryan Cranston. And Will gathers the nerve to visit his estranged wife (Rohm) and son (Martini's real son Leo).
---
The film's editing captures Will's fragmented perception, as he meets new people while figures from his past haunt him. The tone is rather grim and sober from the start, because Will finds virtually every moment of his life an emotional and physical challenge. This is lightened by moving songs on the soundtrack, as well as some gently silly moments. This helps provide texture as the plot meanders over the extended running time, but some trimming would have made it more powerful.

Martini has a haggard charm as a man who looks older than he is. His intimidating appearance makes people pause, even though they can't see the ghosts that are swirling around in his mind. Martini gives him some engaging layers, dredging up deep emotions to make him sympathetic and to reveal the dark value of this epic journey. Opposite him, Rohm shines as a woman placed in a very tricky situation, while Mulroney is left in a thankless role as her rude new husband.

Right through the film, Martini has a tendency to play up the emotional beats, using a swelling score to crank up the sentimentality. And the trajectory of the overlong narrative isn't hugely original, with the usual highs and lows. But even the smaller side characters are compelling, as are things they face along the way. And the topic has such weight and relevance that the film becomes more than the sum of its parts: this is a vital, provocative exploration of a situation that touches millions of people every day.
| | | |
| --- | --- | --- |
| | themes, language, violence, sexuality | 3.Jan.19 |
R E A D E R R E V I E W S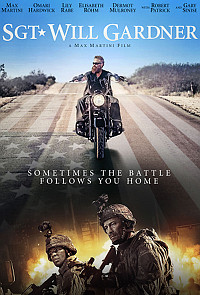 Still waiting for your comments ... don't be shy.