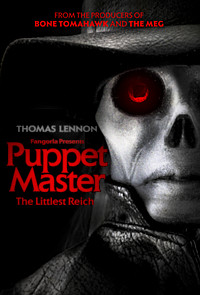 dir Sonny Laguna, Tommy Wiklund
scr S Craig Zahler
prd Lorenzo Di Bonaventura, Mark Vahradian, Dallas Sonnier
with Thomas Lennon, Jenny Pellicer, Nelson Franklin, Charlyne Yi, Michael Pare, Barbara Crampton, Udo Kier, Alex Beh, Matthias Hues, Skeeta Jenkins, James Healy Jr, Laurie Guzda
release US 17.Aug.18,
UK 19.Apr.19
18/US 1h30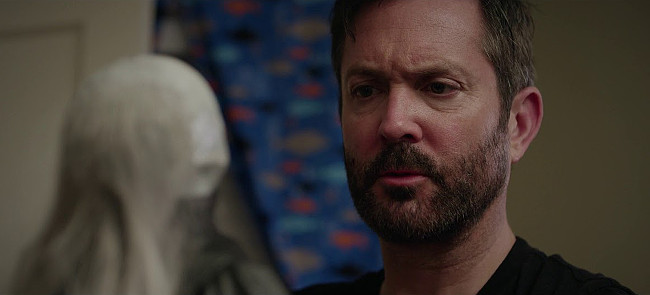 This witty 1980s-style slasher horror movie features epic levels of blood and guts unleashed by an army of vicious Nazi puppets. Fans of gruesome mayhem will love the nonstop series of outrageously violent murders, which are played in a deadpan comedic style. The cast members also play it straight, even the scenes that are deliberate pastiche. And it has a proper zinger in its tail.
---
In Dallas, recently divorced Eddie (Lennon) moves back in with his disapproving parents (Healy and Guzda). Working in a comic shop with his annoying pal Markowitz (Franklin), Eddie reconnects with Ashley (Pellicer), an ex-girlfriend from school, and discovers a creepy weaponised puppet in his childhood bedroom. He decides to auction it at a convention commemorating 30-year-old murders committed by puppeteer Andre (Kier in the prologue). But the puppets go missing, launching a grisly murder spree in the hotel. Detective Brown (Pare) is overwhelmed by the chaos, as everyone runs for their lives.
---
At the convention, the ex-cop (horror veteran Crampton) who took Andre down three decades earlier gives a superb creep-out tour of the killer's home, establishing the backstory before Zahler's script launches into extreme violence in which not even pregnant women or young children are safe. Eddie notes that the murders are hate-related, as victims are Jewish, gay, black, gypsy and Muslim. As a small group of survivors gathers to figure out what to do, the script adds continually sharp gags in between each ghastly attack.

Lennon is a superb every-guy: Eddie is a frustrated comic book artist whose life hasn't gone as he'd planned. Cleverly, even in this nutty situation, he's solving mysteries from his past and building his relationship with Ashley, played with a lively combination of steeliness and sardonic wit by Pellicer. Franklin is oddly endearing as an obnoxious chucklehead. And each of the side characters develops some properly engaging detail before he or she is dispatched in another inventive, blackly hilarious way.

The film is full of moments that elicit a sudden groan as something unexpectedly brutal erupts on-screen. These nasty little Nazi puppets are unfeasibly strong and murderously tenacious, and Zahler never flinches from letting the audience know that getting out of this alive is going to be nearly impossible. This adds to the movie's full-on tone, which builds in intensity to the ingenious final moment in which the filmmakers pull one final trick on the audience.
| | | |
| --- | --- | --- |
| | themes, language, violence, sexuality | 11.Apr.19 |
R E A D E R R E V I E W S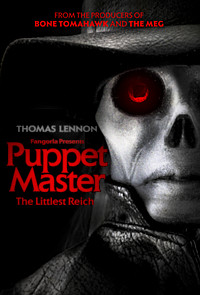 Still waiting for your comments ... don't be shy.