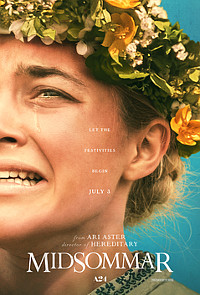 dir-scr Ari Aster
prd Patrik Andersson, Lars Knudsen
with Florence Pugh, Jack Reynor, Will Poulter, William Jackson Harper, Vilhelm Blomgren, Ellora Torchia, Archie Madekwe, Hampus Hallberg, Gunnel Fred, Isabelle Grill, Katarina Weidhagen, Henrik Norlen
19/US A24 2h20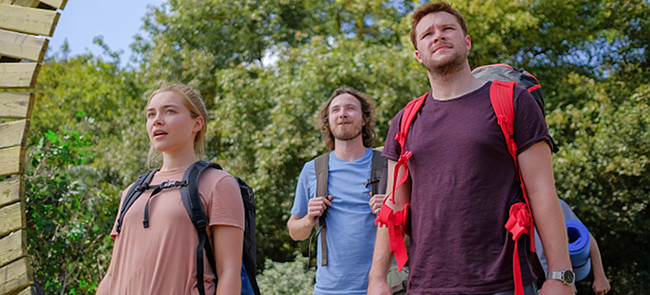 As writer and director, Ari Aster shows even more confidence here than in his previous freak-out Hereditary, which is saying something. This is a smart, precisely unnerving horror set in perpetual sunshine, literally so. This offers plenty of visual detail and layered performances from an above-average cast. It's a gradually gnawing, unhinged terror that simply feels wrong on a variety of levels. And it's thoroughly entertaining.
---
Still in shock after an awful family death, Dani (Pugh) decides to accompany her boyfriend Christian (Reynor) on his summer trip with university pals Mark and Josh (Poulter and Harper). Their friend Pelle (Blomgren) has organised a mid-summer visit to the woodland commune in Sweden where he was raised. And this year is a special nine-day celebration, held once every 90 years. From the start, things here seem somewhat inexplicable, especially as the midnight sunshine blurs day and night together. And after they drink some sort of mystery tea, the situation quickly turns jaw-dropping.
---
Aster cleverly undermines the earliest instance of intense grisliness with vaguely reasonable explanations and the fact that Christian and Josh are both researching this commune for their anthropological theses. So they ask questions the audience wants to know, leading to suggestions of things that are deeply worrying. From the flowers to the runes to dancing circles, a yellow pyramid and a caged bear, everything feels ominous. And rightly so. Aster's brightly lit scene-setting makes each element vividly unsettling, and he never shies away from things that are deliberately jarring.

Pugh gives another sublimely textured performance, repeatedly swerving through a range emotions within extended takes. She's a compelling, engaging presence, and the fact that her relationship with Christian is strained before the trip adds intriguing layers to her scenes with Reynor, who particularly shines when he begins to grasp the ramifications of what he's witnessing. Christian and the other guys each have their own harrowing odyssey in store, and the actors make the outrageous events eerily believable. As does the superbly creepy-smiley crowd of blonde Swedes.

Even as it's providing dark chills, the film touches on deeper themes relating to traditions and deeply held belief systems. This secretive, isolated commune echoes the closed mindset of mainstream religious and political groups around the world. And the foreign interlopers bring the audience into this world with an sense of touristic curiosity that's perhaps too easy to identify with. So it doesn't matter what Aster's final message might be. He gives each of us a run for our money.
| | | |
| --- | --- | --- |
| | themes, language, violence, sexuality | 2.Jul.19 |
R E A D E R R E V I E W S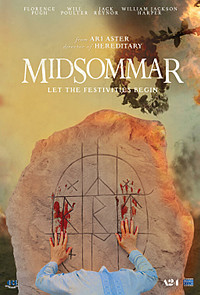 Still waiting for your comments ... don't be shy.