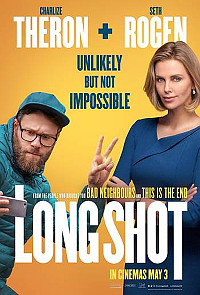 dir Jonathan Levine
scr Liz Hannah, Dan Sterling
prd Charlize Theron, Evan Goldberg, Seth Rogen, Beth Kono, AJ Dix, James Weaver
with Charlize Theron, Seth Rogen, June Diane Raphael, O'Shea Jackson Jr, Ravi Patel, Bob Odenkirk, Andy Serkis, Alexander Skarsgard, Randall Park, Tristan D Lalla, Lil Yachty, Lisa Kudrow
release US/UK 3.May.19
19/US Lionsgate 2h05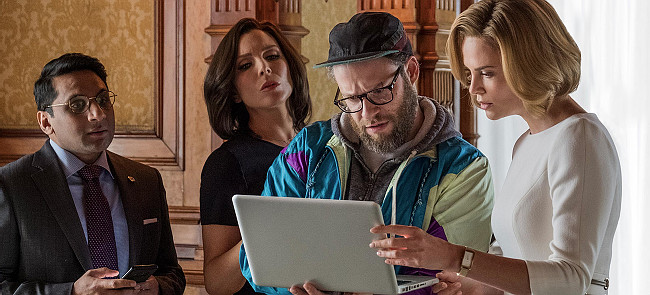 A snappy script with just the right amount of political awareness helps make this one of the funniest romantic comedies in recent memory. Director Jonathan Levine keeps the pace brisk enough to fill the extended running time, and the cast are up for having some fun with the characters. So amid the laugh-out-loud dialog and topical satire, there's some surprising emotional resonance as well.
---
When a right-wing media tycoon (an unrecognisable Serkis) buys his radical magazine, journalist Fred (Rogen) quits on principle. That night, out partying with his best pal Lance (Jackson), he runs into his old babysitter Charlotte (Theron), who is now America's impossibly glamorous secretary of state. She is laying the groundwork to run for president, so she hires Fred as a speechwriter. But as they begin to fall for each other, her staff (Raphael and Patel) insists that they are far too odd a couple to go public.
---
The tension between what the heart wants and what will win public opinion infiltrates the script, including Charlotte's played-up flirtation with the hot Canadian prime minister (Skarsgard, bravely subverting his sex-god image). And then there's the US president (Odenkirk), a dimwitted TV actor who is using the presidency to make the jump to film. Thankfully, it's so much fun that the standard plot machinations are never troublesome. And Rogen and Theron cleverly play with the audience's reaction to their unlikely romance.

Both dive headlong into the silliness. Rogen has a couple of ludicrous slapstick moments and is dressed like a clown for much of the film. Theron is sleek and gorgeous, and yet happily drabs down to divert media attention. Their connection works because of fierce intelligence and jagged wit. Much of their dialog is flat-out hilarious, livened up by an ace supporting cast that knows when to steal a scene (Odenkirk is particularly hysterical) and when to let the stars have the spotlight.

The script is very close to the current political bone, but veers away to play with America's increasingly fractured two-party system. One offhanded scene offers some proper insight into this, while other jokes and observations knowingly undermine expectations on a range of topics. So with the thematic issues covered, the movie can concentrate on the comedy and romance, zipping literally around the world on a wildly improbable journey that will give viewers some hope that maybe they too can punch above their weight.
| | | |
| --- | --- | --- |
| | themes, language, violence, sexuality | 28.Mar.19 |
R E A D E R R E V I E W S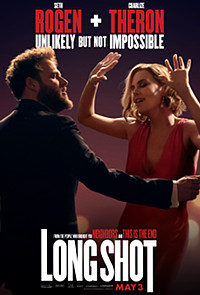 Still waiting for your comments ... don't be shy.