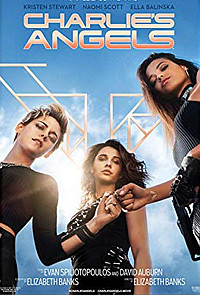 dir-scr Elizabeth Banks
prd Elizabeth Banks, Doug Belgrad, Elizabeth Cantillon, Max Handelman
with Kristen Stewart, Naomi Scott, Ella Balinska, Elizabeth Banks, Patrick Stewart, Djimon Hounsou, Sam Claflin, Nat Faxon, Jonathan Tucker, Luis Gerardo Mendez, Chris Pang, Noah Centineo
release US 15.Nov.19,
UK 29.Nov.19
19/Germany Columbia 1h58




---
See also: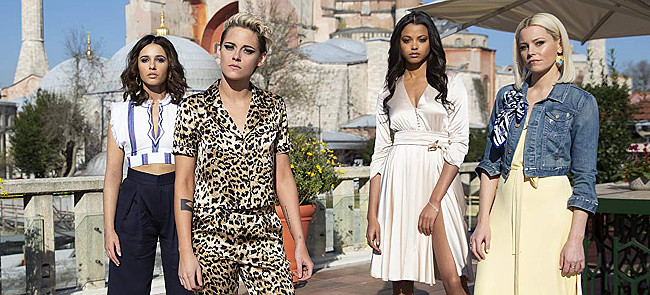 This reboot bears little resemblance to either the original 1970s TV series or the two movies in the 2000s. Filmmaker Elizabeth Banks has abandoned the formula to make a girly Mission: Impossible-style spy romp with excessive guns and gadgets. It's well-staged, with nicely chaotic action, some solid characters and a strong blast of female empowerment. But the story and its various twists and turns are sometimes painfully corny.
---
From its private investigator roots, the Townsend Agency has broadened into international espionage, with Bosley (Banks) taking over from retiring veteran Bosley (Patrick Stewart). Another Bosley (Hounsou) is overseeing a mission in Hamburg with two agents, bad girl Sabina (Kristen Stewart) and ex-British agent Jane (Balinska). Their contact at a tech firm is Elena (Scott), who joins the team to take on a mystery figure trying to weaponise her whizzy power-supply invention. The question is whether to trust seemingly oblivious top boss Alexander (Claflin) or slippery executive Peter (Faxon), while dodging vicious assassin Hodak (Tucker).
---
Everyone in this film is more than heavily armed, and the big guns kind of defeat the entire premise that women have their own power. These Angels may be intelligent, trained fighters, but they're also kitted out with heavy artillery and a mind-boggling array of convenient tech that would give anyone the upper hand if it actually existed beyond the realm of fantastical spy movies. Which eliminates most of the suspense. At least the male characters aren't simpering idiots.

Kristen Stewart commands the screen with star presence, adding a quirky, steely edge to Sabina that ignites her chemistry with Balinska's effortlessly efficient loner. Their sarcastic banter extends nicely to Scott's plucky, multi-skilled Elena. And Banks provides sass as she re-enters the fray later on. Of the men, Tucker stands out for his willingness to avoid winking even when his character does something hyperbolically nasty. And Mendez is hilarious as a Townsend operative in Berlin with a range of healing and domestic skills. There are also some amusing cameos in the closing credits.

The film's overriding comical tone lends sharp wit to the stylish settings and costumes, plus some properly inventive fight choreography and snappy action beats. But there's never even the slightest sense of irony here. These women are basically trained killers as ruthless as the baddies they're fighting. So as the grisliness escalates, any sense of thematic depth regarding gender issues is obliterated. The movie is still entertaining, but it's no more than fluff.
| | | |
| --- | --- | --- |
| | themes, language, violence | 20.Nov.19 |
R E A D E R R E V I E W S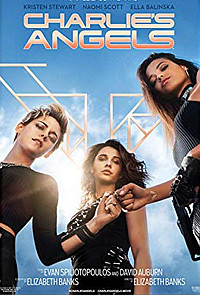 Still waiting for your comments ... don't be shy.