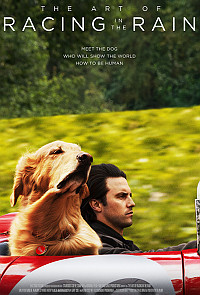 dir Simon Curtis
scr Mark Bomback
prd Neal H Moritz, Joannie Burstein, Tania Landau
with Kevin Costner, Milo Ventimiglia, Amanda Seyfried, Martin Donovan, Kathy Baker, Gary Cole, Ryan Kiera Armstrong, Andres Joseph, Ian Lake, Donald Heng, Al Sapienza, Lily Dodsworth-Evans
release US/UK 9.Aug.19
19/US Fox 1h49




Relentlessly heartwarming, even as it touches on heavy topics, this family drama tells its story from a pet's perspective, narrated with hangdog charm by Kevin Costner. All the way through, there are oddly misjudged elements that cheerfully trivialise things like career struggles, cancer and death. But as directed by Simon Curtis, it's also as comfortable as an old golden retriever.
---
Enzo (Costner) has a happy life with Denny (Ventimiglia), a race driver whose specialty is adapting to unexpected conditions like rain. Then Denny meets Eve (Seyfried), and their daughter Zoe (Armstrong) is 7 when Eve begins feeling the effects of cancer. Her parents (Donovan and Baker) tussle with Denny for custody of Zoe. All of which delays his racing career, so he works as a mechanic alongside his best friends (Joseph and Lake) and teaches driving for veteran Don (Cole). Enzo adapts to each of these challenges, doing whatever a dog can do to help.
---
Curtis presents this with warmly glowing cinematography and spotless sets. There isn't one scene that looks authentic, which perhaps inadvertently reinforces that it's seen through a dog's eyes. With the edges so thoroughly sanded off the story and characters, this is the kind of movie only children (or adults who wilfully reject reality) will connect with. That said, it's also relentlessly sweet and good-natured, resisting sentimentality even in the sappiest moments.

Costner's voice couldn't be much more suited to Enzo's wonky-eyed adorability, as he narrates life from a perky puppy to an exhausted old dog. Ventimiglia has terrific camaraderie with his canine costar(s), and also finds strong connections with the superbly offhanded Seyfried and the energetic Armstrong. Opposite them, Donovan and Baker add some texture to their roles, which are very basically written to stir tension and then some villainous opposition into the plot. In other words, connections between these characters are meaningful simply because they are drawn that way.

Yes, there's very little here that isn't deeply contrived, with the worst moments coming when Enzo admires Eve's body or hallucinates (apparently due to old yogurt?) about an evil toy zebra. The story's beats come at the prescribed moments, the outcomes are fairly easy to predict at every point, and everyone is so relentlessly nice that it sometimes feels oppressive. And yet there's something about a loyal dog that defies criticism. Frankly, it's impossible to be annoyed at this shaggy movie for too long, unless you're a cat person.
| | | |
| --- | --- | --- |
| | themes, violence | 6.Aug.19 |
R E A D E R R E V I E W S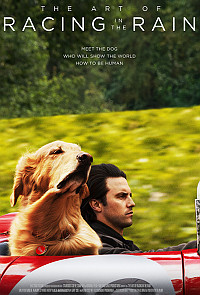 Still waiting for your comments ... don't be shy.