dir Phil Johnston, Rich Moore
prd Clark Spencer
scr Phil Johnston, Pamela Ribon
voices John C Reilly, Sarah Silverman, Gal Gadot, Taraji P Henson, Jack McBrayer, Jane Lynch, Alan Tudyk, Alfred Molina, Ed O'Neill, Sean Giambrone, Flula Borg, Ali Wong
release US 23.Nov.18, UK 30.Nov.18
18/US Disney 1h52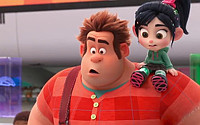 Little and large: Ralph and Vanellope



---
See also:


R E V I E W B Y R I C H C L I N E

With an even more manic array of visual references, this sequel thankfully also has a more coherent, engaging plot that draws in audiences of all ages. The imagery is almost ludicrously colourful and the jokes fast and furious, with a script that bounces easily between edgy humour and sweet sentimentality. It's a bit overlong, with some unnecessary action and some contrived visualisations. And it's also a lot of fun.

Life is good for Ralph (Reilly), but his best pal Vanellope (Silverman) is beginning to get restless, bored with the predictable courses in her arcade racing game. When her game is broken, she and Ralph take advantage of a newly connected router to source the replacement part on the internet. This launches them into a whole new range of perils. Vanellope has a clash with Shank (Gadot), star of a hyper-violent online role-playing game, while Ralph works with Yesss (Henson) to make viral videos to raise needed funds. But dangers are lurking everywhere.

There's a superbly expansive sensibility that gleefully imagines possibilities within the world wide web, which looks like an endless futuristic city in which apps are gleaming office blocks. Within this are a flurry of amusing jokes about online experiences, plus a full deluge of Disney nods, including Vanellope's hilarious encounter with all of Disney's princesses. These scenes keep us laughing, with punchlines aimed at both kids and grown-ups, while the plot churns through the usual formula.

What holds this together is the affecting connection between the hulking, dim-bulb Ralph and tiny, candy-coated Vanellope. Reilly and Silverman pour soul into these characters, bringing out their naivete and steelier inner ambitious. Meanwhile, the animators play on their contrasting cute physicalities, juxtaposing them with some fantastically outrageous settings. They're also surrounded by a flurry of terrific characters, many of whom have surprisingly engaging lives of their own (Shank's gang deserves its own movie).

The filmmakers pack in so many gags that we're almost distracted from the tired predictability of the plot. The premise allows for endless options, and yet the narrative hinges on a series of eye-catching but rather pointless action set-pieces, including an overblown finale that only restates a lesson the characters have already learned. The smaller dramatic moments are much more powerful, entertaining and moving the audience in equal measure. We may rewatch the movie to catch witty references we missed last time, but it's the emotions that make us care.
| | | |
| --- | --- | --- |
| | themes, language, violence | 25.Nov.18 |