dir James Marsh
scr Joe Penhall
prd Tim Bevan, Eric Fellner, Ali Jaafar, Michelle Wright
with Michael Caine, Jim Broadbent, Tom Courtenay, Charlie Cox, Ray Winstone, Paul Whitehouse, Michael Gambon, Francesca Annis, Claire Lichie, Ann Akin, Adam Leese, Kellie Shirley
release UK 14.Sep.18
18/UK StudioCanal 1h48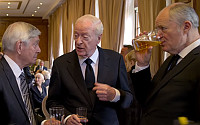 Get the old gang back together: Courtenay, Caine and Broadbent



R E V I E W B Y R I C H C L I N E

Based on a true story, this caper thriller recreates the events with skill, although the attention to detail leaves it feeling dry. Without a proper point of view, the film flits around between characters, finding clever moments between them but never developing a sense of engaging momentum. Which means that it's more notable as a dramatisation of what happened then as an entertaining heist movie.

After his wife (Annis) dies in 2015, veteran thief Brian (Caine) decides he has little to lose, so begins to plan an epic burglary. Egged on by young Basil (Cox), Brian contacts his fellow retiree friends Terry and Kenny (Broadbent and Courtenay), as well as the roughhousing Danny (Winstone) and the up-for-anything Carl (Whitehouse). Their target is a vault in London's Hatton Garden jewellery district, and over the long Easter weekend they make off with some £200 million in an elaborately planned break-in. But along the way, major cracks appear in the gang's camaraderie.

The movie presents these rifts objectively, showing both sides of petty arguments in which it's clear that everyone is wrong. This quietly strips away any sympathy we might feel with any of these gently likeable old guys, leaving us to think that, since they aren't capable of working together like grown-ups, they deserve to be caught. So we're almost left rooting for the police detectives as they are seen to piece the clues together. But this certainly can't be where the filmmakers want the audience to be, since they never bother to create characters out of the cops.

The venerable actors are able to invest much more into their roles than is written on the page. Caine and Broadbent bring strong subtext to Brian and Terry, adding some hefty weight to their escalating feud. Courtenay, Whitehouse and Gambon (as Kenny's hapless fishmonger cohort) are enjoyably goofy, sometimes tipping over the top in their befuddlement. Winstone adds some nice edginess as the blustering Danny, while Cox brings some youthfulness but remains enigmatic as the group's mystery man.

As a director, Marsh has a solid grip on the material, orchestrating the action in a series of slickly assembled montage sequences that coolly connect the present-day action with the gang's groovy decades-earlier heyday. So it's that much more frustrating that the script never finds a proper voice, presenting the gang's infighting and betrayals almost clinically. This gives the film plenty of documentary interest, but leaves it oddly unmoving.
| | | |
| --- | --- | --- |
| | themes, language, violence | 30.Aug.18 |