dir Steven Caple Jr
scr Sylvester Stallone, Juel Taylor
prd Sylvester Stallone, Kevin King Templeton, William Chartoff, Charles Winkler, David Winkler, Irwin Winkler
with Michael B Jordan, Sylvester Stallone, Tessa Thompson, Phylicia Rashad, Dolph Lundgren, Florian 'Big Nasty' Munteanu, Wood Harris, Russell Hornsby, Brigitte Nielsen, Milo Ventimiglia, Robbie Johns, Andre Ward
release US 23.Nov.18, UK 30.Nov.18
18/US Warner 2h10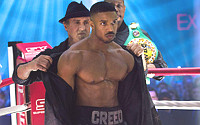 In his corner: Stallone and Jordan




R E V I E W B Y R I C H C L I N E

After Ryan Coogler rebooted the franchise in 2015, Rocky reassumes control and steers things back to the usual uncomplicated but engagingly stirring drama of the six earlier movies. Not only does this movie's narrative dovetail with previous episodes, but its structure is a virtual copy, meaning audience members who have watched the saga from the start will know exactly what will happen at any given point. As always, the cast makes it worth watching.

After surprising the world by winning the heavyweight championship, Adonis Creed (Jordan) proposes to his girlfriend Bianca (Thompson) then becomes distracted by an old feud. Retired Russian boxer Ivan Drago (Lundgren), who killed Adonis' father in the ring then was beaten by Adonis' trainer Rocky (Stallone), is coaching his hulking son Victor (Munteanu), issuing a challenge that Adonis can't resist. But Rocky doesn't want to revisit this old grudge. And Adonis' mother (Rashad) is worried about him.

This is a return to that punch-drunk Rocky movie vibe, with obvious heroes and villains and internal conflicts that are vivid but never go very deep. Emotions are strong enough to drive the plot forward, but the thrills are all obvious. Still, the film transcends this is the acting, as Stallone easily slips into his most comfortable role. And Jordan is incapable of delivering a shallow performance, making Adonis a darkly troubled young man who isn't particularly likeable for much of the story.

Jordan also develops superbly textured interaction with those around him. Scenes with Stallone gurgle with respect and regret, while he's able to inject off-handed humour both here and especially in his relationship with Thompson's artistically minded and strong-willed Bianca. There are also intriguing characters played by Harris (as Adonis' new trainer) and Hornsby (as a slippery promoter). And of the rest of the cast, only Lundgren gets to hint at something beneath the surface, even if the script never does anything with it.

For fans of the saga and the genre, this movie delivers exactly what's expected, including rousing training montages, high-energy matches and that surging musical score. But after the bracing complexity of Creed, this sequel is frustratingly superficial, packed with laughable gimmicks (like Rocky's desert boxing camp) and over-familiar plot points that make it almost impossible for the film to get the audience's adrenalin pumping. Even so, after 42 years it's nice that there's life in these characters yet.
| | | |
| --- | --- | --- |
| | themes, language, violence | 21.Nov.18 |