dir Bill Holderman
scr Bill Holderman, Erin Simms
prd Bill Holderman, Erin Simms, Andrew Duncan, Alex Saks
with Diane Keaton, Jane Fonda, Candice Bergen, Mary Steenburgen, Don Johnson, Andy Garcia, Craig T Nelson, Alicia Silverstone, Katie Aselton, Richard Dreyfuss, Ed Begley Jr, Wallace Shawn
release US 18.May.18, UK 1.Jun.18
18/US Paramount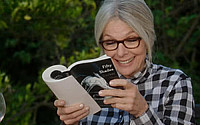 An exciting read: Keaton



R E V I E W B Y R I C H C L I N E

Cheerful and very lazy, this is the kind of romantic comedy that never stretches either the audience or the actors. The script is so contrived that nothing is remotely believable, even if it touches on real issues along the way. Thankfully, the cast is likeable, and it's not much of a strain to take this cute journey with them. It's also nice to be reminded that we should never give up on life.

For 40 years, four Los Angeles women have been meeting monthly to discuss books, but something about this latest novel hits a nerve. While reading Fifty Shades of Grey, widowed housewife Diane (Keaton) meets a sexy pilot (Garcia), hotel owner Vivian (Fonda) is confronted with an old crush (Johnson), divorced judge Sharon (Bergen) decides to try a dating app, and chef Carol (Steenburgen) tries to rekindle her marriage to Bruce (Nelson). Meanwhile, Diane's daughters (Silverstone and Aselton) convince her that it's time to move to Arizona to be closer to them.

These four make unlikely friends, and not just because of the 15-year age span between the actresses. But it's simpler to avoid questioning the set-up, because the plot holes are rather expansive. The movie is production designed to within an inch of its life, with sets, props, costumes and lighting that are improbably impeccable. And some locations are suspiciously artificial, perhaps to match the badly Photoshopped pictures of these women when they were younger. Ignoring all of this will make the film almost bearable.

The best thing here is seeing these titanic actresses having such a relaxed time playing women who are sexually alive at a certain age. And two of them have flings with men at least decade younger than they are. Each cast member is a seasoned professional, coasting along with a smile. Fonda is particularly good at injecting subtlety between the lines, Bergen has expert timing, Steenburgen wears her heart on her sleeve, and Keaton is irresistibly Keaton.

The men opposite them don't have much to do but switch on the charm for requisite rom-com moments (and endure some rather embarrassing jokes with dignity). There's some enjoyably undemanding chemistry too, as the film reminds youngsters in the audience not to underestimate their elders. Meanwhile, geriatric viewers will be encouraged not to abandon hope and move into a basement. So while there's nothing particularly new here, the film is amiable enough to provoke a few smiles.
| | | |
| --- | --- | --- |
| | themes, language, innuendo | 17.May.18 |