dir Tomas Alfredson
scr Hossein Amini, Peter Straughan, Soren Sveistrup
prd Tim Bevan, Eric Fellner, Peter Gustafsson, Robyn Slovo
with Michael Fassbender, Rebecca Ferguson, Charlotte Gainsbourg, Jonas Karlsson, Chloe Sevigny, Val Kilmer, JK Simmons, Toby Jones, Michael Yates, James D'Arcy, David Dencik, Jakob Oftebro
release UK 13.Oct.17, US 20.Oct.17
17/UK 1h59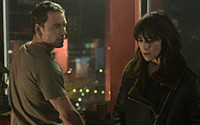 We need to talk about Oleg: Fassbender and Gainsbourg



R E V I E W B Y R I C H C L I N E

It's inexplicable how this muddled screenplay emerged from a novel by Jo Nesbo (Headhunters) adapted by director Thomas Alfredson (Let the Right One In) and screenwriters Hossein Amini (Drive) and Peter Straughan (Tinker Tailor Soldier Spy). This is an oddly humourless film full of scenes that feel random, distracting us from a mystery that isn't particularly intriguing. At least it looks great, making terrific use of its Scandinavian setting.

A falling-down drunk, Harry (Fassbender) is a detective in Oslo, where there aren't enough murders to keep him busy. Even so, he struggles to find time to spend with his teen son Oleg (Yates) by ex-girlfriend Rakel (Gainsbourg), whose husband Mathias (Karlsson) is a plastic surgeon. Assisted by new arrival Katrine (Ferguson), Harry links together several cases in which women have gone missing. And all of this seems connected to a cold case involving two Bergen cops (Kilmer and Jones) and a developer (Simmons) making a pitch for a winter sports championship.

Dion Beebe's cinematography captures the Norwegian countryside in all of its snow-covered grandeur, even as virtually every scene features near white-out conditions. And the sets make great use of light and glass, adding plenty of atmosphere. So it's frustrating that, instead of becoming more sinister, the killer's trademark grimacing snowmen merely get sillier as the story unravels. Many scenes feel cursory, characters lose motivation and end up doing strikingly stupid things, and the main plot never gains traction.

Fassbender holds the film together with only his charisma, since Harry never coalesces into a coherent human being. Sometimes falling-down drunk, sometimes a genius, sometimes emotionally crippled, he apparently solves the preposterous mystery by accident. But Ferguson has it worse as a detective who seems to know nothing about police work and never develops a connection with anyone else. Gainsbourg's character also resists coming into focus, Simmons and Jones are wasted in pointless roles, and Kilmer is simply baffling.

Surely it's inconceivable that this film went so wrong with so much talent on board (Martin Scorsese is a producer, Thelma Schoonmaker an editor). But the biggest problem is a script adaptation that never gets a grip on the plot, overpopulating the screen with characters and story threads that make things murky rather than intriguing. And by never creating believable central characters, it ends up as a film that looks lovely but leaves the audience cold.
| | | |
| --- | --- | --- |
| | themes, language, violence, sexuality | 18.Oct.17 |