dir Steven Spielberg
scr Liz Hannah, Josh Singer
prd Amy Pascal, Steven Spielberg, Kristie Macosko Krieger
with Meryl Streep, Tom Hanks, Bob Odenkirk, Tracy Letts, Bradley Whitford, Sarah Paulson, Bruce Greenwood, Matthew Rhys, Carrie Coon, David Cross, Alison Brie, Jesse Plemons
release US 22.Dec.17, UK 19.Jan.18
17/US Fox 1h56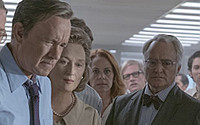 Print the truth: Hanks, Streep and Whitford


R E V I E W B Y R I C H C L I N E

With a driving narrative and riveting performances, this drama traces the 1971 release of the Pentagon Papers, which raised the curtain on official US government policies to manipulate the public using lies about military actions. Steven Spielberg and his first-rate cast skilfully capture the urgency of the situation both for the people involved and the nation at large. And they don't have to work too hard to highlight how timely this issue is right now.

As the situation in Vietnam grows increasingly volatile in 1966, analyst Daniel Ellsberg (Rhys) steals a raft of top secret paperwork detailing America's secret military strategy after WWII. Five years later, Washington Post publisher Kay Graham (Streep) is nervous about finances, but editor Ben Bradlee (Hanks) isn't willing to compromise journalistic integrity. So when the rival New York Times breaks the Pentagon Papers story, Ben and his team scramble to find their own scoop. And they discover a web of official deception, illegal covert operations and vile policies that the public needs to know about.

Spielberg gloriously recreates the period, which makes the film play out like a prequel to All the President's Men. The story pungently explores how a struggling newspaper grapples with the issue of quality versus profitability. And this is given added resonance as a woman pushes against men who underestimate her. The film is beautifully structured, making terrific use of archival news footage and even Nixon's Oval Office tapes to ground the drama in real events, pushing characters into various ethical corners.

Firing on all cylinders, Streep and Hanks anchor the terrific cast with earthy, detailed performances that cut through surfaces to reveal insecurities these intelligent people grapple with in precarious times. The moral imperative is obvious, as is the vital role the media plays in protecting democracy. But business, legal and personal issues are everywhere. So there's an extra kick when, for example, Rhys' character says, "Wouldn't you go to prison to stop this war?"

Yes, the film sharply explores the news media's responsibility to keep a lying government in check. While Kay is reluctant to betray powerful friends, Ben notes that no one else is going to keep politicians in check. And as the Post and Times are taken to court to stop reporting the truth, the strain between press freedom and government secrecy becomes almost overpoweringly important. As the Supreme Court stated in this case, "The press is to serve the governed, not the governors."
| | | |
| --- | --- | --- |
| | themes, language, violence | 5.Dec.17 |