dir Matthew Vaughn
scr Jane Goldman, Matthew Vaughn
prd Adam Bohling, David Reid, Matthew Vaughn
with Taron Egerton, Colin Firth, Julianne Moore, Mark Strong, Halle Berry, Pedro Pascal, Jeff Bridges, Channing Tatum, Edward Holcroft, Hanna Alstrom, Elton John, Emily Watson Bruce Greenwood, Poppy Delevingne, Michael Gambon, Thomas Turgoose
release UK/US 22.Sep.17
17/UK Fox 2h21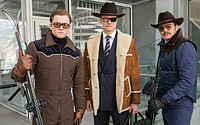 Go west: Egerton, Firth and Pascal



---
See also: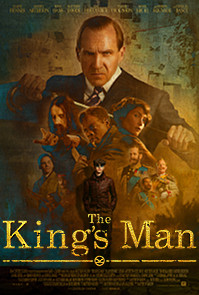 R E V I E W B Y R I C H C L I N E

Although Matthew Vaughn has made this sequel bigger and whizzier than the first movie, it also feels oddly safer, as he tones down the transgressive aspects while indulging in a more predictable action-thriller plot. Thankfully it's still a lot of fun, with plenty of wacky touches that keep the audience smiling, plus a riotously eclectic cast in a playful mood.

Now a respectable Kingsman, Eggsy (Egerton) is juggling his spy missions with his Swedish princess girlfriend Tilde (Alstrom). But when maniacal drug lord Poppy (Moore) attacks the Kingsman bases, survivors Eggsy and Merlin (Strong) turn to their American cousins, Statesman, for help. Leader Champ (Bridges) and agents Tequila (Channing) and Ginger (Berry) offer support and reunite Eggsy with his brain-injured mentor Harry (Firth). Now working with Statesman Whiskey (Pascal), they set off to stop Poppy's nefarious plan and save the world.

With swooping cameras, digital trickery and wildly acrobatic choreography, the movie often feels more like a crazy cartoon than a live-action thriller. Although it's definitely not for kids, with continual four-letter words and one unnecessarily sexual plot point that feels contrived just to be rude. Otherwise, Vaughn has a lot of fun with the tailored Brits and cowboy-chic Yanks, with some added colour in Poppy's jungle lair, which replicates 50s Americana with a touch of the fabulous 70s in Elton John, who dives right into the mayhem.

Egerton anchors the film solidly, balancing the physical action and relational issues while adding a few moments of emotional resonance here and there. Firth is engaging as the amnesiac struggling to regain his effortless cool. And Moore shines without ever pushing her unhinged role over the top. Of the expansive supporting ensemble, Strong has the most to do this time, and runs with it. Oddly, the charismatic Bridges and Channing remain largely on the edges, perhaps waiting for their own spin-off movie.

It's frustrating that Vaughn seems to have taken a step backwards with this sequel. Instead of seizing the original's anarchic, boundary-pushing approach, this film feels like a standard summer blockbuster with some deranged touches scattered throughout a predictable plot. It's an odd decision since the film is so carefully aimed at adults, meaning he could have gone anywhere he wanted to. It may be entertaining, but perhaps Vaughn has the franchise bug and is more concerned with lining up future episodes than breathing fresh air into an increasingly tired genre.
| | | |
| --- | --- | --- |
| | themes, language, violence, sexuality | 20.Sep.17 |