dir Lasse Hallstrom
prd Gavin Polone
scr W Bruce Cameron, Cathryn Michon, Audrey Wells, Maya Forbes, Wally Wolodarsky
with Josh Gad, Dennis Quaid, Peggy Lipton, KJ Apa, Britt Robertson, John Ortiz, Kirby Howell-Baptiste, Pooch Hall, Juliet Rylance, Luke Kirby, Bryce Gheisar, Logan Miller
release US 27.Jan.17, UK 5.May.17
17/US Amblin 1h40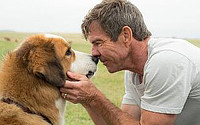 One more life: Buddy with Quaid



R E V I E W B Y R I C H C L I N E

If you can just go with this film's doggy reincarnation premise, it's actually a rather warm and involving odyssey. Director Lasse Hallstrom knows how to tap into the sentiment without ever letting things get sappy, and the strong cast injects moments of earthy humour and honest realism amid the sunshiny production values.

This is the story of five lives of a dog (voiced by Gad). The first in 1950 is brief, but he returns as sparky retriever Bailey, adopted by 8-year-old Ethan (Gheisar), who grows into a football star (now Apa) with a hot girlfriend (Robertson). In his next life, Ellie is a K9 cop working with lonely partner Carlos (Ortiz). She's then reborn as Tino, a lively corgi who helps his master Maya (Howell-Baptiste) find a partner (Hall). And finally he's Buddy, a St Bernard stray who finds a new master (Quaid) and again helps make a love match (Lipton).

There's one big connection between two of the segments, as well as some running themes as the dog ponders his (rather obvious) reason for living. Of course eating is a primary concern, but so is keeping his various masters happy, protecting people, holding relationships together and other family-friendly things. Gad provides continuity between the incarnations, keeping the tone generally happy and cheerful as he continually misunderstands moments of tragedy or pain. But his earnest desire to help is genuinely winning.

Of the human cast, Quaid and Lipton get the best roles, rounding off the movie with some engaging resonance. Ortiz brings a surprising emotionality to his segment, making Carlos' sadness genuinely heartbreaking. All of the actors, including the dogs, fill each scene with personality and spark. And while the film's tone is overwhelmingly positive, much darker feelings are seen all along the way. This adds some realism that helps paper over the rather ridiculous rebirth plot.

Hallstrom and the team of writers (including Cameron, who wrote the novel) make sure to include just about every movie genre in here, from wacky slapstick to sweet romance to thrilling action and domestic drama. The whole thing is far too tidy, but by centring on dogs who genuinely want to please their masters (and their audience), this isn't a film that's easy to be nasty about. It also makes you want to have a dog of your own, and most definitely not a cat.
| | | |
| --- | --- | --- |
| | themes, violence | 9.Apr.17 |