dir Jonathan Teplitzky
scr Alex von Tunzelmann
prd Claudia Bluemhuber, Nick Taussig, Piers Tempest, Paul Van Carter
with Brian Cox, Miranda Richardson, John Slattery, Ella Purnell, Julian Wadham, Richard Durden, James Purefoy, Danny Webb, Jonathan Aris, George Anton, Steven Cree, Angela Costello
release US 2.Jun.17, UK 16.Jun.17
17/UK 1h45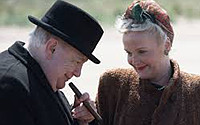 Power couple: Cox and Richardson



R E V I E W B Y R I C H C L I N E

The introspective approach taken by this film gives it some added interest, but the fact remains that the details of the story are so generally well-known that it never quite comes to life. As a result, it doesn't stand up to comparisons with The King's Speech, which clearly informed director Jonathan Teplitzky's approach. Still, it's beautifully shot, skilfully acted, and the dialog is crafted with a lovely sense of language.

In June 1944, Winston Churchill (Cox) has serious misgivings about the vast D-Day operation devised by General Eisenhower (Slattery) to invade France and push the Nazis back. Haunted by his own experiences in the Great War, Churchill tries to dissuade British military commander Montgomery (Wadham) and even makes an appeal to King George (Purefoy). But his pushy, cantankerous style doesn't earn him many friends. Even his wife Clementine (Richardson) has had just about enough, but she continues to try to talk some sense into him.

The central portrait here is of an ageing warrior struggling to accept his new role as a leader on the sidelines, letting younger men plan and fight the battles. This is strongly conveyed in snappy exchanges between Churchill and everyone around him, from the top brass to his long-suffering secretary (Purnell) and his close advisor, Field Marshal Smuts (Durden). But because we know what happened at this pivotal moment in history, his rampaging verbal assaults come across almost as the ravings of an angry old man.

That said, Cox digs very deep into the character, revealing layer after layer of emotion, intelligence, frailty and resolve. It's a vivid depiction of one of the 20th century's most iconic politicians, engaging and perhaps a little exhausting, in all the right ways. In her isolated scenes opposite him, Richardson shines as a woman who can't quite hide the fire inside her. Other characters have one very strong moment each, generally tugging the strings of sentimentality in various directions.

For those who enjoy revelling in British history, this film will be just the tonic. But by sticking with such a familiar story, it struggles to speak to a wider audience, even if the sense of global menace resonates. Churchill's memories of WWI are evocative, as are personal anecdotes shared conversationally. And the film's style is seriously sumptuous, including the use of strikingly visual locations. But the war remains resolutely off-screen, which leaves the powerful arguments about the nature of duty and sacrifice feeling somewhat academic.
| | | |
| --- | --- | --- |
| | themes, language, brief grisliness | 12.Jun.17 |