dir Doug Liman
scr Gary Spinelli
prd Brian Grazer, Doug Davison, Brian Oliver, Kim Roth, Tyler Thompson
with Tom Cruise, Domhnall Gleeson, Sarah Wright Olsen, Alejandro Edda, Caleb Landry Jones, Jayma Mays, Jesse Plemons, Lola Kirke, William Mark McCullough, Tony Guerrero, Mauricio Mejia, Robert Farrior
release UK 25.Aug.17, US 29.Sep.17
17/US Universal 1h55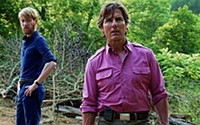 Just go with it: Gleeson and Cruise



R E V I E W B Y R I C H C L I N E

Based on an almost overpoweringly absurd true story, this film holds attention with rapid-fire plot details and lively characters. But despite being about a real person, this feels more like a movie about Tom Cruise than anything else. His movie-star charisma carries the show, soaking every scene in his specific brand of swaggering machismo while obliterating meaningful commentary about government overreach.

In 1978 Louisiana, airline pilot Barry Seal (Cruise) is struggling to support his wife Lucy (Wright Olsen) and kids when he gets an offer from CIA handler Schafer (Gleeson) to take spy photos of Central American freedom fighters. This role extends to Colombia, where the Medellin Cartel and offers him a lot more money smuggling cocaine on his return flights. Next, the CIA has him carrying Russian weapons to the Contras in Nicaragua, then working with the DEA and the White House itself. And he has no problem playing the sides against each other.

The story covers about nine years in Barry's life, and is narrated by home videos he made in 1986 to document his crazy experiences, which gives the film a "you won't believe what I did" sensibility. Liman dots the film with archival news footage but only features noted figures like Pablo Escobar, Manuel Noriega and Oliver North in the margins. This effectively roots the film in the headlines leading up to the Iran-Contra scandal, revealing the background events as they spiral wildly out of control.

Cruise is in his comfort zone here, flashing that shiny grin while diving into each scene's physicality. He's magnetic enough to hold the audience, making Barry a likeable rogue who is never quite in control of the growing chaos. Gleeson is wonderfully slippery, and Wright Olsen provides just enough sassy counterpoint. And Landry Jones is on fine scene-stealing form as as Lucy's dimwitted brother, who jeopardises Barry's carefully constructed house of cards. Everyone else provides terrific texture in roles that are too small to properly develop.

Liman gives the film a superbly freewheeling tone, shot with a colourful urgency by Uruguayan cinematographer Cesar Charlone. And Spinelli's script hops enjoyably from one outrageous anecdote to the next. It's rather frustrating that there isn't more detail in the characters, and particularly less Cruise and more Seal. But the movie is an entertaining romp. And its twists and turns are so ridiculous that we'd never believe them if they weren't true.
| | | |
| --- | --- | --- |
| | themes, language, violence, sexuality | 23.Aug.17 |