dir Michael Bay
scr Chuck Hogan
prd Michael Bay, Erwin Stoff
with John Krasinski, James Badge Dale, Pablo Schreiber, David Denman, Dominic Fumusa, Max Martini, Alexia Barlier, David Costabile, Peyman Moaadi, Matt Letscher, Toby Stephens, Freddie Stroma
release US 15.Jan.16, UK 29.Jan.16
16/US Paramount 2h24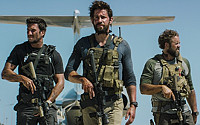 Manly men: Schreiber, Krasinski and Denman



R E V I E W B Y R I C H C L I N E
Calling a Michael Bay movie bombastic is silly, because he's not capable of making anything else. The action is staged with eye-catching skill, but Bay completely misses the chance to explore the story's personal nuances or political edges. Instead, it's merely interchangeable characters in frantic shootouts with massive explosions. Basically, it's gun porn.

In September 2012, the American ambassador to Libya (Letscher) is staying at a temporary compound in Benghazi despite warnings of impending danger. Just down the road at a secret CIA base, a group of private contractors is keeping an eye on the situation. Jack (Krasinski) has just arrived to join the team alongside his pal Rone (Dale) and four other tough guys (Schreiber, Denman, Fumusa and Martini). Then as an angry militia overruns the ambassador's house, their base chief (Costabile) orders them not to get involved. But they charge to the rescue anyway.

The only complexity the film acknowledges is the difficulty of knowing which armed locals are on whose side. This adds a sense of realistic confusion and helplessness to characters who are overpoweringly arrogant. But it doesn't help the audience identify with any of them. There are some specific character traits here and there, but all of these guys are basically the same cocky alpha-male with the same back-story as former black ops soldiers working outside the system, and concerned wives and children back home.

Krasinski's Jack is the movie's token central character, so the actor has a chance to add some emotional textures to his gung-ho performance, as does Dale in a far less defined role as his old friend. Although surging sentiment in video calls home feels very cheap. Aside from Costabile's indecisive chief and Letscher's seemingly oblivious ambassador, the only other character who feels distinctive is Moaadi's conflicted translator, thrust terrifyingly into the midst of the fight.

In both big battles and quiet interludes, Bay and Hogan paint everything with the broadest strokes imaginable, never providing a perspective to the story. It spirals around to look at the action from every side of the chaos, leaving the audience without a focal point. And lacking something to cling to, two and a half hours of intense fighting is exhausting. It may look cool and feature the odd moment of resonant emotion, but the vague approach encourages viewers to overlay their own narrow political opinions, further muddling the truth of what happened on this fateful night.
| | | |
| --- | --- | --- |
| | themes, language, violence | 25.Jan.16 |