dir-scr Ricky Gervais
prd Chris Coen, Aaron L Gilbert, Manuel Munz
with Eric Bana, Ricky Gervais, Kelly Macdonald, Vera Farmiga, Kevin Pollak, America Ferrera, Raul Castillo, Benjamin Bratt, Manuel Rodriguez-Saenz, Walter Alza, Mimi Kuzyk, Jim Norton
release US/UK 29.Apr.16
16/US Netflix 1h40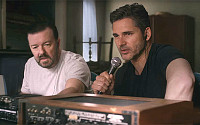 Breaking news: Gervais and Bana



R E V I E W B Y R I C H C L I N E

More amusing than hilarious, this comedy written and directed by Ricky Gervais has both a gentle charm and a pointed satirical sensibility. It may be the tale of two dim-witted journalists engaging in a hapless scam, but the film is also a sharp exploration of a culture in which fame is the ultimate goal, regardless of talent or morality.

New York radio newsman Frank (Bana) blags his way through the city's top stories with the help of ace journalist Claire (Macdonald) and sound engineer Ian (Gervais). Then when he and Ian are assigned to cover an uprising in Ecuador, Ian loses their passports. Instead of facing their bulldog boss (Pollak), they hide with Brigida and Domingo (Ferrara and Castillo) above the Mexican restaurant across the street from the office, pretending to be in Quito. Then Ian's prickly wife Eleanor (Farmiga) starts using the growing popularity of their reports to turn herself into a celebrity.

The story ambles along amiably, coasting on the sparky energy of the cast members. Most of the humour comes from the characters rather than the absurd situations. Journalists will especially be able to pick holes in the plot (how many local radio stations have an international news coverage budget?). And Frank's reports are resolutely non-newsworthy. But the public reaction to their supposed kidnapping is riotously on-the-nose. And the improvisational performances provide smiles amid the general silliness.

Gervais makes himself the butt of most jokes, as a loser with too-sexy wife who has given up on him because of his un-glamorous job. He takes all of the insults stoically, which hints that Ian will somehow prove himself in the end. Bana returns to comedy with a sharp sense of timing and an equal willingness to look foolish as a handsome jerk. Macdonald is likeable in the puppy dog role. And Farmiga steals the show with all of the best gags, including a ridiculously catchy song Eleanor writes to raise funds to bring Ian home.

It's a shame that the crew neglected to do much research, because just a bit of authenticity never goes amiss (it's a double-whammy for me, a journalist who grew up in Ecuador). But as a mindless comedy, the movie does what it needs to do to keep the audience connected to the characters and intrigued by the marvellously messy trajectory of the plot. And there are even some very big laughs along the way.
| | | |
| --- | --- | --- |
| | themes, language, violence, drugs | 28.Apr.16 |