dir Peter Berg
scr Peter Berg, Matt Cook, Joshua Zetumer
prd Dorothy Aufiero, Dylan Clark, Stephen Levinson, Hutch Parker, Michael Radutzky, Scott Stuber, Mark Wahlberg
with Mark Wahlberg, Kevin Bacon, John Goodman, JK Simmons, Michelle Monaghan, Alex Wolff, Themo Melikidze, Melissa Benoist, Jake Picking, Rachel Brosnahan, Christopher O'Shea, Michael Beach
release US 21.Dec.16, UK 24.Feb.17
16/US CBS 2h10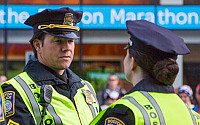 First responder: Wahlberg



R E V I E W B Y R I C H C L I N E
A documentary approach with vivid real-life characters adds a remarkable sense of urgency to this dramatic thriller about the 2013 Boston Marathon bombings. With attention to detail and a driving sense of suspense, the film is utterly gripping as it traces the police efforts to catch the perpetrators and restore a sense of safety to local residents who are longing to dive in and help with the search.

After two brothers (Wolff and Melkidze) plant bombs near the finish line of the marathon, Boston cop Tommy (Wahlberg) kicks into gear to help the injured. FBI agent Richard (Bacon) sweeps in to take over the investigation, working with police commissioner Ed (Goodman). And despite Tommy's wife (Monaghan) trying to get him to get some rest, Tommy remains in the middle of the city-wide hunt, which eventually lands in the neighbourhood of local cop Jeffrey (Simmons), where things turn even more violent.

With their third true story (after Lone Survivor and Deepwater Horizon), Wahlberg and director Berg finally strike the right balance between glowing heroics and earthy action. The film is a remarkable blend of documentary footage and dramatic re-enaction that never pushes the rah-rah sentimentality. The biggest hero, Wahlberg's tenacious cop, is a flawed mess who knows he's a hothead alcoholic. And while other characters are less defined, all are portrayed as normal, complex people in extraordinary circumstances.

If Wahlberg anchors the film in realism, Bacon provides the flash as the fast-acting FBI boss who seems in over his head but would never let anyone know that. Goodman and Simmons bring some down-home bluster, while Monaghan has a steely edge. And Wolff and Melikidze (plus Benoist as one brother's wife) are terrific in much more difficult roles as young people trying to make a point in a horrifically wrong way.

All of this is woven together with a strong sense of urgency, from the shocking bombing to the desperate manhunt. As it builds to one of the most outrageous shoot-outs in movie history, the audience is thrown right into the middle of the action. And the factual filmmaking style makes it impossible to avoid getting emotionally involved. So by the time the documentary coda arrives, we are gasping for breath, perhaps not quite so in awe of Boston's singular experience, but of the fact that so many cities around the world could tell this very same story.
| | | |
| --- | --- | --- |
| | themes, language, violence | 21.Nov.16 |