dir Paul Greengrass
scr Paul Greengrass, Christopher Rouse
prd Frank Marshall, Paul Greengrass, Matt Damon, Gregory Goodman, Ben Smith, Jeffery M Weiner
with Matt Damon, Tommy Lee Jones, Alicia Vikander, Vincent Cassel, Julia Stiles, Riz Ahmed, Ato Essandoh, Scott Shepherd, Bill Camp, Vinzenz Kiefer, Stephen Kunken, Gregg Henry
release US/UK 29.Jul.16
16/US Universal 2h03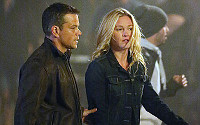 Somebody's watching you: Damon and Styles



---
See also:



R E V I E W B Y R I C H C L I N E

There's a sense that people sat around a table trying to figure out where to take the eponymous character after he solved his life mystery in the first trilogy. And now nine years later, Damon and Greengrass are back with a new wrinkle in the story. This of course allows them to indulge in lots of thunderously entertaining action.

Since working out who he was and outing the CIA, Jason (Damon) is hiding out on the Greece-Albania border earning a living as a bare-knuckle fighter. Then he's contacted by his old handler Nicky (Stiles) with some identity-altering information. CIA director Dewey (Jones) is not happy about this, and calls in a ruthless assassin (Cassel) to clean up the mess. But CIA analyst Heather (Vikander) has a kinder, gentler idea and sets out to bring Jason back into the fold. Of course nothing goes to plan as the action shifts to Berlin, London and Vegas.

Alongside this is a connected subplot about a social media billionaire (Ahmed) trying to fend off meddling from Dewey, who wants the CIA to have backdoor access to all of his users. Yes, the film's tech elements are rather heavy-handed, but they're also timely and only rarely cross the boundary into unbelievability. And if computer screens are still frightfully dull on-screen, at least this adds some whiz-bang hackery to balance out all of the grisly violence.

The most unusual element here is the way its four main characters so tenaciously cling to their personal missions. Damon, Jones, Vikander and Cassel give each person a relentless inability to acknowledge the changing facts around them while pursuing a singular agenda. So to see them come together in a massive collision is rather a lot of fun. Their combined intensity is genuinely nerve-jangling. Thankfully, Jones also injects a merciful dose of sardonic wit.

Greengrass once again directs as if this is a particularly urgent documentary. The opening set-piece, amid a fiery street protest in Athens, is breathtaking. And the tension never lets up through a series of shoot-outs, fistfights and, yes, a staggeringly destructive car chase. Through all of this, there's a careful line drawn between characters who try to keep from injuring innocent passers-by and those who don't value life at all. But it's when these lines are blurred that the film becomes almost hauntingly thoughtful. There's definitely more life in this character.
| | | |
| --- | --- | --- |
| | themes, language, violence | 27.Jul.16 |