dir Denzel Washington
scr August Wilson
prd Scott Rudin, Denzel Washington, Todd Black
with Denzel Washington, Viola Davis, Stephen McKinley Henderson, Jovan Adepo, Russell Hornsby, Mykelti Williamson, Saniyya Sidney, Christopher Mele, Toussaint Raphael Abessolo, Dontez James, Theresa Cook, Malik Abdul Khaaliq
release US 25.Dec.16, UK 10.Feb.17
16/US Paramount 2h19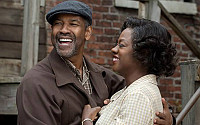 Back yard banter: Washington and Davis



R E V I E W B Y R I C H C L I N E

As a director, Denzel Washington has essentially put August Wilson's Pulitzer Prize-winning play on the big screen with only minor adjustments for cinema. The result is very theatrical, with talky scenes in limited settings. And in the central role, Washington plays every scene to the rafters. Opposite him, Viola Davis delivers a performance that's simply devastating.

In mid-1950s working-class Pittsburgh, Troy (Washington) supports his wife Rose (Davis) and their teen son Cory (Adepo) with his job as a trash collector alongside his pal Bono (Henderson), whom he met in prison. And more skeletons haunt him, including his disabled brother (Williamson) and his 34-year-old musician son Lyons (Hornsby), who regularly turns up needing cash. Troy continually rants about how bad black men have it in a white-run world, but he seems intent on making life harder for his family, especially Cory, forbidding him from getting a football scholarship to attend university.

August's dialog has a Shakespearean flow to it, with surging conversations and towering monologs. Many of these speeches are like epic rants against injustice in society, notably exploring subtle realities in the way the system is tilted away from black people. But there are also compelling discussions of problems much more close to home, as Troy grapples to remain in control of his wife and sons, ignoring the fact that they are intelligent people with independent thoughts.

This conflict makes Troy increasingly unlikeable as the film progresses and his true narrowness emerges. Washington delivers every word and expression with maximum heft, which is eloquent on stage but oddly artificial on screen. This means that we watch Troy but never quite feel him. By contrast, the surrounding cast is visceral and compelling. Henderson provides a casual voice of reason, while Hornsby and Adepo engagingly offer striking angles on the generations. Towering over all of them is Davis in a force-of-nature performance as a woman who simply can't sit quietly in the background any longer.

As the focus shifts from Troy's opinionated rants and lively storytelling to Rose's far more internalised struggle, the film finally grips the audience in a powerful way. It's a shame that the original material wasn't more aggressively adapted to cinema than this movie, which feels like a filmed play on relatively realistic sets. But each moment is packed with telling observations about American life. And Wilson's writing is so lyrical and provocative that it can't help but worm its way under the skin.
| | | |
| --- | --- | --- |
| | themes, language, violence | 28.Nov.16 |