dir Rawson Marshall Thurber
scr Ike Barinholtz, David Stassen, Rawson Marshall Thurber
prd Peter Principato, Scott Stuber, Paul Young
with Dwayne Johnson, Kevin Hart, Amy Ryan, Danielle Nicolet, Aaron Paul, Ryan Hansen, Tim Griffin, Timothy John Smith, Thomas Kretschmann,Jason Bateman, Kumail Nanjiani, Melissa McCarthy
release US 17.Jun.16, UK 29.Jun.16
16/US Universal 1h54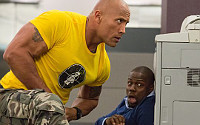 Little and large: Johnson and Hart



R E V I E W B Y R I C H C L I N E

After Get Hard and two Ride Alongs, Kevin Hart stays in action-bromance mode for perhaps his wittiest pairing-up yet. Just looking at him standing next to Dwayne Johnson is enough to elicit a smile. And while the movie is uneven, it's also very funny. Even as it tackles serious themes using a barrage of violent mayhem.

The star of his high school, Calvin (Hart) now feels inadequate, even though he loves his hot wife Maggie (Nicolet) and his accounting job. As their 20th reunion approaches, he hears from Bob (Johnson), the harshly bullied classmate who sees Calvin as the only guy who stuck up for him. Clearly unhinged, Bob drags Calvin into a crazy CIA case, pursued by his boss Pam (Ryan) and her two sidekicks (Griffin and Smith), who insist that Bob has gone rogue and is the real villain. So Calvin needs to figure out who he believes.

There are surprising nuances to the plot that sneak up on an audience that expects just another mindless action romp. The story hinges on the issue of bullying, explored with humour and layers of meaning that encompass racism, sexism and homophobia. The film may draw laughs in its rude jokes, but it's making a point. Although proper thematic depth is somewhat drowned out in the over-the-top violence, which is nicely choreographed but shot and edited into blinding incoherence.

Hart and Johnson have terrific chemistry, adding some sharp subtext to their characters that they and the filmmakers are too timid to pursue. Both are playing men who have been emasculated in different ways and are struggling to prove themselves. This adds a extra likeability to Johnson's beefiness and Hart's rapid-fire hilarity. And both are against-type: Hart is the straight man this time, while Johnson's awkward Bob seems to be the cover for a tough guy, but it's actually the other way round.

These kinds of touches make this wildly ridiculous film thoroughly engaging. As do sharp supporting turns from Ryan, Nicolet, Paul (as Bob's former partner), Hansen (as Calvin's idiot boss) and a string of amusing cameos. So it's a bit annoying that the screenwriters chicken out in the end, falling back on that lame idea that being a man is killing all the bad guys then getting the girl. But since they've also set everything up for a sequel, they still have a chance to get it right.
| | | |
| --- | --- | --- |
| | themes, language, violence, innuendo | 16.Jun.16 |