dir-scr Jon Lucas, Scott Moore
prd Bill Block, Suzanne Todd
with Mila Kunis, Kathryn Hahn, Kristen Bell, Christina Applegate, Jada Pinkett Smith, Annie Mumolo, Jay Hernandez, David Walton, Oona Laurence, Emjay Anthony, Clark Duke, Wanda Sykes
release US 29.Jul.16, UK 24.Aug.16
16/US STX 1h40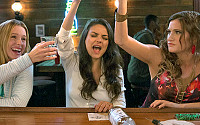 Three cheers for being bad: Bell, Kunis and Hahn



R E V I E W B Y R I C H C L I N E

Bright and silly enough to keep undemanding audiences entertained, this comedy is so cartoonish that it kind of undermines its own themes. There's an important point here about unrealistic caveman-style expectations piled on women. Although it's unlikely that the men who need to hear this message will ever go see this movie.

Amy (Kunis) is a perpetually exhausted working mother, with two young-teen kids (Laurence and Anthony) and a part-time job at a coffee company. Juggling everything with no help from her thoughtless-slacker husband Mike (Walton), she certainly doesn't need pressure from the PTA queen bee Gwendolyn (Applegate) and her minions (Pinkett Smith and Mumolo). Overwhelmed, Amy decides to quit, teaming up with Kiki (Bell) and Carla (Hahn) to reject the pressure to be good moms. So they embark on a campaign of misbehaviour, which of course causes Gwendolyn to declare war.

There's a snappy edge to the barrage of humour, which is exaggerated but still funny. The comedy is overwritten and overplayed, pushed just beyond believability. But while every man is not as lazy or weak as depicted here, each point has the ring of truth. As the narrative settles into the usual Mean Girls scenario, the story becomes a feisty tussle to live on your own terms. There's never any question where this is going, but there are freeform comical riffs all along the way.

Kunis is likeable at the centre, even though the premise drifts over the top from the very start. Her camaraderie with ace scene-stealers Hahn and Bell is amusing, while her flirty banter with hot widower Hernandez is a nice touch. Applegate is pretty fabulous as the self-appointed diva. The most thankless role goes to Walton as such a relentlessly vile idiot that the script cheers Amy for leaving him, leaving us wondering why she was with him at all.

In its clumsy, corny way, this film has several important things to say about gender roles, as well as highlighting the value of escaping the rat race. It's not very smart or clever, but it's engaging enough. And the adult-targeted humour nicely counterbalances the occasional swirls of sentimentality, although writer-directors Lucas and Moore are far too enamoured with cliche gimmicks (the slow walk, slo-mo hair flicks, another drunken party montage) to punch up every sequence. In other words, there's plenty of good stuff in here, but it's lost amid a sea of cheap jokes and hackneyed filmmaking.
| | | |
| --- | --- | --- |
| | themes, language, sexuality, drugs | 21.Aug.16 |