dir Jeremy Garelick
scr Jeremy Garelick, Jay Lavender
prd Adam Fields, William Packer
with Kevin Hart, Josh Gad, Kaley Cuoco-Sweeting, Ignacio Serricchio, Jenifer Lewis, Olivia Thirlby, Jorge Garcia, Affion Crockett, Alan Ritchson, Ken Howard, Mimi Rogers, Cloris Leachman
release US 16.Jan.15, UK 20.Feb.15
15/US Screen Gems 1h41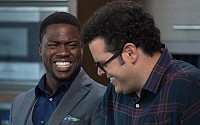 Fake friends: Hart and Gad


R E V I E W B Y R I C H C L I N E

Sometimes a blissfully stupid movie hits enough right notes to keep an audience laughing all the way through, and this comedy more than makes up for it's corny premise with sharp writing and acting. In particular, there's unexpected chemistry between Hart and Gad, which continually shifts the film closer to a bromance. And that's definitely a good thing.

As he gets ready for his wedding, Doug (Gad) realises that he has no friends who are willing to be his best man. He can't quite get over the fact that hot girl Gretchen (Cuoco-Sweeting) wants to marry him, which is why he's so intent on making her big day perfect. So his wedding planner (Serricchio) suggests using a service, hiring Jimmy (Hart) as best man and his ragtag pals (including Garcia, Crockett and Ritchson) as groomsmen. They have two weeks to perfect the illusion that they're all best buddies.

The plot is simple and rather predictable, but the characters more than make up for it, with layers of realistic insecurities wrapped around inventive comical nuttiness. Hart is playing his usual cocky fast-talker, but undermines this with some genuinely likeable subtext. Gad brings his gung-ho physicality to the role, making the most of both the broadest gags and some much more subtle wit while keeping Doug remarkably sympathetic. And the film is livened up hugely by the gang of losers Jimmy brings along as ushers, plus hilarious side roles for the likes of Howard and Rogers (as Gretchen's intense parents).

Naturally, not every joke works, including some over-the-top Meet the Parents-style cheesiness (like the running gag involving the underused Leachman). But the script is full of enjoyable false starts, suggested subplots and random encounters that keep the movie from ever feeling too formulaic. Where the narrative goes may not be remotely surprising, but it's an enjoyable journey. And it actually has some pointed things to say about the insanity of "wedding culture".

Not that the filmmakers are trying to be even remotely serious. But it's great to see a comedy that at least has some angles to it, hinting at larger stories for each of the characters while concentrating on delivering one solid laugh after another. So even when a joke or an entire set-piece falls flat, it isn't long to wait for another flash of biting wit. And in the end, Gad and Hart make such a terrific duo that we hope this isn't the last time they team up.
| | | |
| --- | --- | --- |
| | themes, language, violence, innuendo | 21.Jan.15 |