dir-scr John Francis Daley, Jonathan M Goldstein
prd Chris Bender, David Dobkin
with Ed Helms, Christina Applegate, Skyler Gisondo, Steele Stebbins, Leslie Mann, Chris Hemsworth, Chevy Chase, Beverly D'Angelo, Catherine Missal, Charlie Day, Ron Livingston, Norman Reedus
release US 29.Jul.15, UK 21.Aug.15
15/US Warner 1h39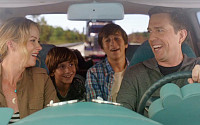 Now that your rose is in bloom: Applegate, Stebbins, Gisondo and Helms


R E V I E W B Y R I C H C L I N E

A next-generation sequel to the four Griswold vacation comedies (1983-97), this road trip romp pays homage to the originals without quite capturing their edgily anarchic tone. Instead, the script veers the franchise into safe territory that's gleefully rude without being bold enough to offend anyone.

Desperate to give his family a summer holiday to remember, Rusty (Helms) plans to drive from Chicago to Wally World in Los Angeles, as his parents did 30 years ago. His wife Debbie (Applegate) is dubious, but she and their bickering teen sons James and Kevin (Gisondo and Stebbins) decide to make the best of it. On the way, they revisit Debbie's debauched sorority and stop in on Rusty's sister Audrey (Mann), now married to a well-endowed Texan (Hemsworth), and his parents (Chase and D'Angelo). And they take blind chaos wherever they go.

Like the earlier movies, this is a series of outrageous set-pieces that trample on the boundaries of good taste, generally involving excrement or genitalia. Thankfully, the script avoids cynicism in its portrayal of a believable family, including hopeful randiness between Rusty and Debbie and raucous sibling banter between James and Kevin, plus a variety of comical tensions with the extended relatives. Although Mann, Chase and D'Angelo are underused, while Hemsworth's physicality is rather overworked.

Helms is likeable as Rusty, a recognisable continuation of the character played by a different actor in each film. His nerdy enthusiasm is endearing as he leads his tribe into one disastrous scenario after another, and Applegate brings a feisty charm all her own (plus spotless comical timing). Gisondo and Stebbins add plenty of spark too. Everyone on screen is just as committed in the painfully unfunny scenes as they are in the more inspired moments. Alas, the filmmakers tilt the balance toward cheap, belaboured gags

Despite the adult rating, this reboot is actually much more childish than the original films. The humour only pretends to be "adult" by sniggering at sex and using extra-strong language; it's actually toothless, and never goes quite as far as we hope it will. Most scenes feel oddly truncated, as if filmmakers Daley and Goldstein couldn't find a punchline, so they just leap into the next bit. This makes the film feel rushed, never bothering to properly set up and deliver a solid laugh. But it gets plenty of chuckles along the way.
| | | |
| --- | --- | --- |
| | themes, language, innuendo, violence | 12.Aug.15 |