dir Saul Dibb
scr Matt Charman, Saul Dibb
prd Romain Bremond, Andrea Cornwell, Michael Kuhn, Xavier Marchand
with Michelle Williams, Kristin Scott Thomas, Matthias Schoenaerts, Sam Riley, Ruth Wilson, Margot Robbie, Tom Schilling, Alexandra Maria Lara, Harriet Walter, Lambert Wilson, Clare Holman, Eileen Atkins
release UK 13.Mar.15
14/UK eOne 1h47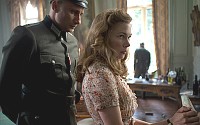 Making beautiful music: Schoenaerts and Williams



R E V I E W B Y R I C H C L I N E

This beautifully made film tells a story about World War II like we've never quite seen before, because Irene Nemirovsky's iconic novel was actually written as events unfolded around her. It's an unusually complex exploration of Germany's occupation of France that rejects traditional ideas of heroes and villains.

In 1940 as thousands flee from Paris, Lucile (Williams) is feeling trapped in the country town Bussy with her mother-in-law (Scott Thomas), a harsh land-owner who menaces her poor-farmer tenants. Lucile barely knew her husband, who went to war shortly after they married, and now she finds herself intrigued by German officer Bruno (Schoenaerts), who is billeted in their house. Like Lucile, Bruno has an interest in music, composing his own piece on Lucile's piano, much to the madame's annoyance. Then a neighbour (Riley) crosses the Germans, and Lucile subtly turns to Bruno for help.

The film is anchored by Williams' textured performance as a woman caught in a life she never wanted, open to possibilities even if they seem transgressive. Williams has a vibrant emotional inner-life, letting each tiny glance reveal something far beyond the somewhat straightforward script and direction. Scott Thomas is also superb, never allowing the madame to become a full-on villain, although she gets rather close in early scenes before revealing her own emotional issues. And Schoenaerts delivers another clever balancing act between his beefy physicality, almost too-striking face and tough-sensitive soul.

All three characters are caught in a swirl of moral dilemmas that are far more complex than we usually see in movies about WWII, in which Germans are always the baddies. So it's easy to imagine that more layers in the side characters than we see on-screen, including Schilling's swaggering Nazi, Riley's impulsive rebel, Wilson and Walter's pampered aristocrats, and various desperate women who cope in their own ways.

Yes, the script sometimes simplifies the characters outside Lucille and Bruno's central drama, but everything is shot and designed with artistry that continually reveals a scene's subtext. So even if many of Nemirovsky's plot-threads remain off-screen, the themes are pungent and provocative. And since this story was written during the war, not in retrospect, it includes perceptive observations that are usually forgotten later. This provides an organic sense of honesty that makes the emotional arc of the narrative resonate even if the movie sometimes seems to get lost in the gritty, gorgeous details.
| | | |
| --- | --- | --- |
| | themes, language, violence, sexuality | 25.Feb.15 |