dir-scr Mark Burton, Richard Starzack
prd Peter Lord, Paul Kewley, Julie Lockhart, David Sproxton
voices Justin Fletcher, John Sparkes, Omid Djalili, Richard Webber, Kate Harbour, Tim Hands, Andy Nyman, Simon Greenhill, Emma Tate, Jack Paulson, Stanley Unwin, Nick Park
release UK 6.Feb.15
15/UK StudioCanal 1h25


Coffee break: Blitzer, Shaun and the flock

---
See also: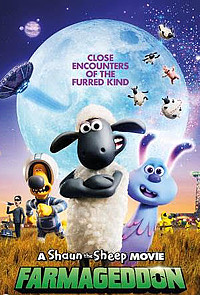 R E V I E W B Y R I C H C L I N E

Relentlessly charming, this animated adventure from Aardman (it's a spin-off from Wallace and Gromit) boldly eschews all dialog to tell its story through lively characters and emotional resonance. At times it's painfully adorable, but it continually undercuts sentiment with earthy humour, and is so packed with detailed comedy nuttiness that everyone in the audience will be laughing at something different.

Shaun (Fletcher) is bored with his daily routine on the farm, and even the Farmer and sheepdog Bitzer (both Sparkes) are on autopilot. Then one morning Shaun is inspired to take a day off. Working with his fellow sheep, Shaun stages a minor revolution that goes pivotally wrong, resulting in the Farmer becoming stranded in the Big City without any memory of who he is. As the sheep and Bitzer stage a rescue, they struggle to stay one step ahead of Trumper (Djalili), the local animal control officer, who has delusions of supercop grandeur.

The plot meanders pleasantly along with a disarming free-wheeling tone that makes it feel marvellously unpredictable. Even if we know how it all has to end, it's impossible to predict where the filmmakers' imagination takes this story. Each set-piece is a wonder of invention, with detailed sets and characters that spring vividly to life, snapping us out of our doldrums every time we begin to feel that things might be getting a bit dull.

Even without any dialog (there's some important written text here and there), these characters burst with personality. Shaun is an especially inventive and strong-willed sheep, refusing to give up even when things start looking impossible. He's also fiercely loyal to his farmyard family, including the three cheeky pigs who make fun of the sheep and then hijack their party house. And the animators dare to make life in the Big City realistically diverse and complicated, including collaboration with ugly orphan puppy Slip (Hands).

As always, Aardman gives the film an engaging hand-made look, complete with fingerprints on the hilariously designed stop-motion clay figures. This positions the whole ridiculous tale in a corner of the very real world, adding a level of connection that simply can't be achieved with digital animation. And while this film seems somewhat simple and over-cute, there's so much going on in every corner of each scene that it'll be the kind of movie that's will be just as much fun to revisit.
| | | |
| --- | --- | --- |
| | some violence, vulgarity | 14.Dec.14 |