dir John Madden
scr Ol Parker
prd Graham Broadbent, Peter Czernin
with Judi Dench, Maggie Smith, Bill Nighy, Dev Patel, Richard Gere, Tamsin Greig, Celia Imrie, Ronald Pickup, Diana Hardcastle, Tena Desae, Penelope Wilton, Lillete Dubey, David Strathairn
release UK 26.Feb.15, US 6.Mar.15
15/UK Fox 2h02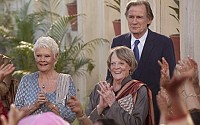 Happy clappy: Dench, Smith and Nighy



---
See also:


R E V I E W B Y R I C H C L I N E
This follow-up to the 2012 hit reunites the starry cast for another romp in India, although the simplistic script nearly sinks it. None of the plot-threads are developed, leaving everything contrived and corny. And much of the dialog is excruciatingly simplistic. But the film just about wins us over with a burst of emotion and some colourful Bollywood excess.

With business booming in Jaipur, Muriel (Smith) and Sonny (Patel) are trying to find investment to expand the hotel, but Sonny needs to pay attention to his impending nuptials with Sunaina (Desae). Then two new portentous guests (Grieg and Gere) arrive. Evelyn (Dench) gets a big job offer just as she realises that she might like to pursue something with Douglas (Nighy), whose estranged wife (Wilton) turns up unexpectedly. Madge (Imrie) can't decide which of her suitors to accept. And Norman and Carol (Pickup and Hardcastle) really need to talk about their relationship.

Yes, the script clumsily piles all of this into a few days of momentous activity, resulting in an awkward mix of slapstick, farce and melodrama. The interaction feels overwritten and fake, but the hugely talented cast still manages to sell the characters. At the centre, Dench and Nighy somehow make Evelyn and Douglas' eye-rollingly hit-and-miss romance rather engaging. And Smith makes us care about Muriel's issues, even though the filmmakers seem to have forgotten to hire someone to do the great actress' make-up, hair and costumes.

The film is also let down by the way it treats Sonny, forcing Patel into a clownishly unlikeable performance as he panics about everything. Imrie also has an oddly thankless role, as her dilemma is dragged out long after it becomes obvious where it's going. The plot strands for Gere, Grieg and Pickup are so predictable that the script itself seems to get bored with them as the film goes along. And yet the cast members carry on as if all of this means something.

There isn't a bad actor here, and the film is beautifully shot in stunning locations. So even though the storylines refuse to spring to life, it remains watchable and sporadically entertaining, especially in the final reel when music and dance take over. It's just a shame that Madden and Parker didn't take more time to write a story that develops the characters and gives them something meaningful to do. Essentially, they try do far too much in two hours.
| | | |
| --- | --- | --- |
| | themes, language | 10.Feb.15 |