dir Robert Schwentke
scr Brian Duffield, Akiva Goldsman, Mark Bomback
prd Lucy Fisher, Pouya Shahbazian, Douglas Wick
with Shailene Woodley, Theo James, Miles Teller, Ansel Elgort, Kate Winslet, Naomi Watts, Jai Courtney, Mekhi Phifer, Daniel Dae Kim, Octavia Spencer, Ashley Judd, Ray Stevenson
release US/UK 20.Mar.15
15/US Summit 1h59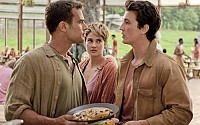 Who do you trust? James, Woodley and Teller



R E V I E W B Y R I C H C L I N E
This second film in the Divergent series is a sharp improvement, with sharper visuals and a plot that puts the premise into more sensible context. Director Schwentke also focusses more on the characters, allowing the actors to add texture and depth to their interaction, which promises a more intriguing future for the franchise.

After escaping from walled-in Chicago, Tris (Woodley), her boyfriend Four (James), her brother Caleb (Elgort) and shady cohort Peter (Teller) hide with the food-gathering Amity community. But Erudite leader Janine (Winslet) is hunting divergents, which she needs to access a relic from the pre-war past. Her goons (Courtney and Phifer) scour the land, sending Tris and pals on the run. They hide out with the factionless (led by Watts) before seeking help from the truth-telling Candor leader (Kim). But Tris needs to confront Janine face-to-face if she's going to get any peace.

The script is packed with dreams, flashbacks and simulations that try to trick the audience so frequently that we begin to doubt everything we're watching. While this is a bit annoying, the film is at least cleverly rendered to offer various hints, especially with the eye-catching effects in the simulation sequences. The setting, some 200 years after a devastating war, is also depicted with striking attention to detail, which makes everything feel just a bit more real than before. And there's a late plot point that further helps make sense of this oddly segmented society.

Best of all is how the characters develop after the relatively thin first chapter. Woodley gives Tris a terrific inner rage, which compromises every decision she makes. Emotions churn beneath her steely surface, which makes her a person we can root for. James is also able to bring out Four's personality, while both Teller and Elgort have surprises up their sleeves. And key side-roles for Watts, Kim, Spencer and others add layers of interest. But it's Winslet who walks off with the film, blending just a hint of insecurity into her fiercely aggressive politician.

Schwentke keeps the action grounded and earthy, with scary ambushes and some truly horrific violence (which is all off-screen). Even the brain-bending mental-probing mumbo jumbo feels more meaningful, while the various factions (and non-factions) are less gimmicky this time around. All of this makes the film feel much meatier than the usual blockbuster, even as it's becoming more like The Hunger Games, which isn't a bad thing. And it hints at some thrilling twists and turns yet to come.
| | | |
| --- | --- | --- |
| | themes, violence, language | 16.Mar.15 |