dir Thomas Vinterberg
scr David Nicholls
prd Andrew Macdonald, Allon Reich
with Carey Mulligan, Matthias Schoenaerts, Michael Sheen, Tom Sturridge, Juno Temple, Jessica Barden, Harry Peacock, Bradley Hall, Hilton McRae, Jody Halse, Victor McGuire, Sam Phillips
release UK/US 1.May.15
15/UK Fox 1h59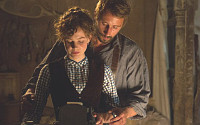 Big strong man: Mulligan and Schoenaerts



R E V I E W B Y R I C H C L I N E

Sumptuously adapted from Thomas Hardy's 1874 novel, this British period film is a twisty tale of drama and romance featuring fine performances that bring out subtle nuances in the complex relationships. It feels eerily modern, and as the story gets darker it also feels somewhat overlong.

While living with her aunt in the Dorset countryside, independent young Bathsheba (Mulligan) can't help but notice hot farmer Gabriel (Schoenaerts) next door. But she turns down his marriage proposal to live her own life. Years later, they meet again when he takes a job at a farm she has inherited from an uncle. But this time he has a love rival in the form of wealthy neighbour William (Sheen). And Bathsheba's eye is also caught by the dashing young soldier Frank (Sturridge). Refusing to let a man define her, Bathsheba goes with her heart.

Hardy's stories are packed with coincidences, as fate connives to both help and hinder complex, strong-willed characters. And these are the elements that give the film its weight, as people are continually pushed to choose between difficult options. This allows director Vinterberg to create a nicely textured tone that sweeps from giddy joy to deep despair, including every emotion in between. Which makes the dark intensity of climactic scenes feel realistically oppressive.

Thankfully, the cast balance this heaviness with raw, detailed performances. Mulligan shines as a young woman far ahead of her time who refuses to play by society's sexist rules. "Let no man steal your thyme," she sings with a knowing pun in a gorgeously plaintive after-dinner song. Her chemistry is strikingly different with Schoenaerts, Sheen and Sturridge, all of whom offer equally layered performances as the good man, the safe man and the sexy man, respectively. But it's no contest: Schoenarts is so magnetic and beefy that he makes everyone else look plain. Including the women.

While carefully maintaining the integrity of Hardy's narrative, Vinterberg and screenwriter Nichols also gently echo present-day themes, including the strain of economic need and the pressure society places on people to fit into so-called traditional roles. Obviously, marriage no longer means that the woman becomes the man's property, but even nearly 150 years later the truth is that women earn less than men and are punished for wanting both a career and family life. Hardy's story suggests that this is a flaw in the male ego, so while telling a resonant story, this lovely film also makes an important point.
| | | |
| --- | --- | --- |
| | themes, violence | 15.Apr.15 |