dir Michael Radford
scr Anna Pavignano, Michael Radford
prd Matthias Ehrenberg, Ricardo Kleinbaum, Jose Levy, Edward Saxon, Nicolas Veinberg
with Shirley MacLaine, Christopher Plummer, Marcia Gay Harden, Scott Bakula, George Segal, Chris Noth, Jared Gilman, Erika Alexander, Reg Rogers, Wendell Pierce, Deanna Meske, James Brolin
release US 7.Nov.14, UK 1.May.15
14/US 1h37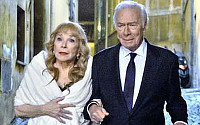 La Dolce Vita: MacLaine and Plummer


R E V I E W B Y R I C H C L I N E
Warm and silly, this remake of the 2005 Spanish film is too simplistic and sentimental to properly engage an audience, but the actors find substance beneath the superficial story to make it gently involving. And while the central romance is uneven and rather soppy, it's spiced up by some nutty side characters.

After his wife dies, 80-year-old Fred (Plummer) is moved into an apartment by his perpetually frantic daughter Lydia (Harden), whose husband (Noth) wants Fred to invest his savings in his latest business venture. Fred is annoyed that Lydia has hired a nurse (Alexander) to care for him, and he's reluctant to engage with his new neighbour Elsa (MacLaine), a too-spry 74-year-old with two sons, patient Raymond (Bakula) and starving artist Alec (Rogers). But she coaxes Fred into venturing outside and living a little. And maybe even falling in love.

Filmmaker Radford struggles to balance a knowing honesty about old age with a zany comical tone, as the actors relentlessly exaggerate their characters' quirks, including these two geriatrics who aren't afraid to play the old-person card. The script never quite locates the centre of this story: is it about making the most of your waning years, learning to be open to love, accepting your family, not waiting to realise your dreams? All of these elements are layered in here with a fairly heavy hand.

While the characters essentially have one characteristic each, MacLaine undermines Elsa's ditziness with a life-loving attitude that echoes her favourite movie La Dolce Vita. And Plummer underscores Fred's relentless grumpiness with a strong resolve for independence and a sometimes reluctant curiosity about what life might still have to offer. This makes their romance surprisingly enjoyable, especially as they behave like giggly kids who are being naughty. But there's also the sense that they feel mortality creeping up on them.

We learn early on that Elsa is on dialysis, which threatens to tip the film into a tragedy. Thankfully, Radford avoids weepiness for something a bit more complex. And along the way, there are strong comments on how the relationship between generations shifts in ways that are both good and bad. And how it's much more dangerous to be afraid of life than of death. But the best thing to take away is Elsa's question: "In all your years on earth, how much did you laugh?"
| | | |
| --- | --- | --- |
| | themes, language | 26.Apr.15 |