dir-scr Jeta Amata
prd Jeta Amata, Wilson Ebiye, Ori Ayonmike,
Dede Mabiaku, Hakeem Kae-Kazim, Adebayo Sorungbe
with Mbong Amata, Enyinna Nwigwe, Hakeem Kae-Kazim, Mickey Rourke, Kim Basinger, Sarah Wayne Callies, Wyclef Jean, Akon, Vivica A Fox, Anne Heche, Dede Mabiaku, Fred Amata
release Ngr 21.Dec.12, US 9.Jan.15
14/Nigeria 1h35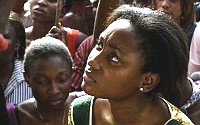 Local hero: Mbong Amata



R E V I E W B Y R I C H C L I N E

Even though it was originally filmed three years ago (now revamped with added Hollywood name-value), this dramatic thriller tells a vital, timely story about the situation in Nigeria, a nation with a population larger than Russia. The movie is ambitious and serious, but the uneven filmmaking makes it difficult for Western audiences to engage with it.

In the Niger Delta, 21-year-old Ebiere (Amata) has just returned from schooling in America when her community is devastated by an oil-industry accident. As the most educated person around, she quickly becomes a leader working alongside and getting romantically involved with Dede (Kae-Kazin), head of the rebel uprising. Then when one protest turns fatal, Ebiere is imprisoned and put on death row. Meanwhile in Los Angeles, a Nigerian activist (Nwigwe) and his friends (including Jean and Akon) take an oil company executive (Rourke) and a journalist (Basinger) hostage to demand justice for Ebiere.

The film's depiction of the situation in Nigeria is powerful, as it shows how the petrol industry has destabilised local life, corrupted every level of government and encouraged rampant thuggery. The way oil company goons and Nigerian soldiers brutally abuse the residents is very hard to watch, as are the backroom meetings in which people casually ignore real needs for their own greed. It's also startling to see how the industry supports the nation economically, but the system leaves people in poverty and the land polluted.

Intriguingly, writer-director Amata refuses to simplistically blame the West for this, showing layers of local corruption and violence that naturally lead to armed conflict by strengthening the rebels' resolve. In the focal role, Mbong Amata (the filmmaker's wife) adds a steeliness that makes her scenes compelling, even if the other characters feel underwritten. While Kae-Kazim bursts with charisma, there's little to Dede beyond righteous indignation and a soapy romantic subplot. Of the Hollywood names, Rourke and Basinger have important roles, but Fox and especially Heche are sidelined in odd cameos.

All of this is directed in a style that looks corny by Western standards. Drama is ramped up with cheesy music, action scenes are cheaply staged and choppily edited, dialog is pointed and preachy. The cast of thousands of extras is impressive, and the relentless cruelty and injustice are pungent. But by working to be so worthy and inspirational, filmmaker Amata undermines his own message. Which is a shame because the situation demands attention.
| | | |
| --- | --- | --- |
| | themes, language, violence | 7.Jan.15 |