dir Michael Mann
scr Morgan Davis Foehl
prd Michael Mann, Jon Jashni, Thomas Tull
with Chris Hemsworth, Wang Leehom, Tang Wei, Viola Davis, Holt McCallany, Andy On, Ritchie Coster, Yorick van Wageningen, Christian Borle, John Ortiz, Archie Kao, Abhi Sinha
release US 16.Jan.15, UK 20.Feb.15
15/US 2h13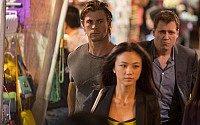 On the run again: Hemsworth, Tang and McCallany



R E V I E W B Y R I C H C L I N E
Slick and deliberate, this thriller is engaging and superbly well-made, but struggles to hold the audience's interest due to its slow pace and lacklustre characters. There are moments of adrenaline-pumping action, but the mystery develops gradually, clue by achingly sought-out clue, while the people on-screen are little more than shadows.

After a cyberattack on a Chinese nuclear plant, FBI Agent Barrett (Davis) consults Chinese expert Chen (Wang), who says the only man for this job is his former MIT roommate Nick (Hemsworth), currently serving 13 years in prison. On a supervised release, Nick heads to Hong Kong with Chen and Barrett, plus minder Mark (McCallany) and Chen's hacker sister Lien (Tang). While instantly falling for Lien and indulging in lots of shady computer work, Nick traces the attack to ruthless thug Kassar (Coster) and his elusive boss Sadak (van Wageningen) in Jakarta, outside FBI jurisdiction.

Veteran stylist Mann keeps the imagery sleek and intriguing, dropping continual hints while focussing more on the FBI team's desperate working methods than on the bigger picture. This makes the film feel oddly unexciting, as there's little sense of what's at stake, mainly because no one knows what the baddie is up to. As a result, the romantic subplot feels not only irrelevant but badly contrived. As does the way Hemsworth's transgressive computer nerd suddenly turns into a skilled marksman with beefy stuntman moves and the ability to set up a massive showdown in a crowded public square.

There's also the problem that Mann chooses to depict the computer virus with cheesy lighting running along wires inside the systems Sadak is targeting. Only a luddite would find that depiction even remotely thrilling. But then, despite some astoundingly, viciously exciting handheld-camera shootout sequences, this film isn't about thrills. It's about how vulnerable even the tightest computer system is to a hacker with a connected keyboard. Or even the right kind of mobile phone.

So even if none of the characters quite emerges as a proper human, because they're all hiding who they are from everyone (including the audience), the film as a whole has a gnawing intensity that holds our interest. It's fascinating to see this team working to track down who's doing this and why, and by keeping everything relatively sedate Mann makes it feel almost believable until Hemsworth enters action-man mode. Even so, it leaves us chilled about the possibilities.
| | | |
| --- | --- | --- |
| | themes, language, violence, sexuality | 16.Feb.15 |